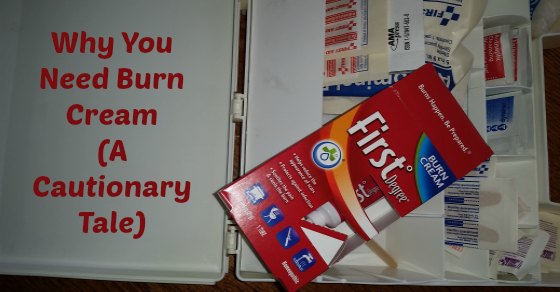 If only I had First Degree Advanced Burn Cream in my medicine cabinet a month ago, I likely would have saved myself 1) scars on my belly, and 2) a doctor bill. I feel stupid even telling the story, but it might save you some pain and money in the future.
Let me rewind. One day I was making Easy Mac in the microwave for the kids. The mac and cheese that no one can screw up. I had the noodles and water boiling in a cereal bowl. When I pulled it out, I accidentally sloshed the water down the front of me. That was bad, but from there it got WORSE.
I yelled for my husband. My stomach felt like it was on fire. I couldn't run cold water over it because it was my STOMACH. So he grabbed me some ice and wrapped it in a paper towel.
That was our first major mistake. 
After awhile it was cooled down and I could handle the pain. Yes, I made sure we finished the Easy Mac. So the kids were eating and I was trying not to complain. As the afternoon went on, I noticed that part of the burn was blistered pretty bad but the other part not so much. My husband suggested that we put a bandaid over the part that was "not so much."
That was our second and MAJOR mistake.
We went about the afternoon…taking the kids to the movies. I noticed that the burn area was really hurting. Almost like it was ripping. Wait….ripping? Yes. The bandaid on the burn was ripping the blistered skin right off. I eventually had to just pull over the bandaid because it was tearing the skin so much.
By the next day, I was in so much pain I could barely turn my torso. I couldn't sleep on it. I could hardly wear clothes. Within 2 days, I was in the doctor's office. Between the burning, the ice, and the bandaid, I was in bad shape. I ended up having to get a special prescriptive cream ($$$) in addition to paying for the doctor bill.
Fast forward to when I received my last Influenster VoxBox and it contained First Degree Advanced Burn Cream. It's something that I should have had in my cabinet the whole time. I could have used it when I burned my belly, when my daughter burned herself with her curling iron, and when a friend burned his fingers on fireworks on the 4th of July. It might just have been all of our saving graces.
Knock on wood, I haven't had to use it since it arrived. But I have no doubt that I will. And I will be taking care of a burn the RIGHT way instead of looking like the Keystone Cops running around my kitchen trying to figure out what to do.
Do yourself a favor and pick some up. You don't need it until you NEED it…and then you will be glad that you have it.