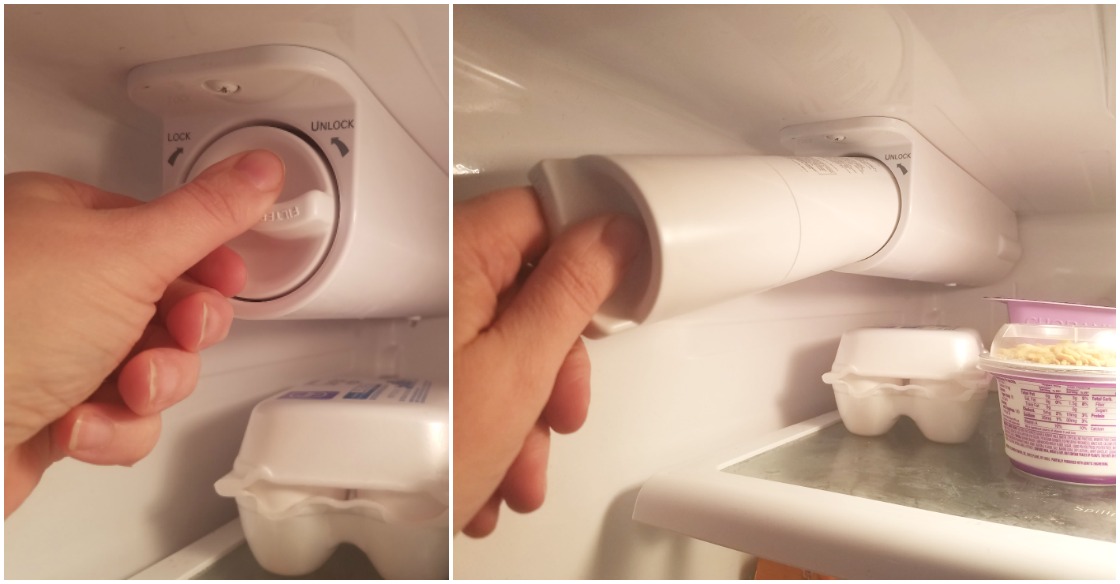 I learned how to do something new this week–change the water filter in my refrigerator. I always thought it was some kind of complicated process best left to my husband (the designated appliance expert in our house). I imagined it being something similar to changing the air filter in the furnace where you have to take things apart with a screwdriver and be sure to get them back together *just right* so you don't break anything.
I had no idea how easy it was to change the water filter and how CHEAP it can be with Sears Parts Direct!
You can easily look up your replacement water filter online at Sears Parts Direct by brand, refrigerator style, filter location, and removal method. You don't even have to know your model number. I was able to figure out that I needed the "Genuine Kenmore Refrigerator Water Filter" that sells for $49.98 online. That's a pretty great price considering how much water I filter through my refrigerator.
But here is what is even better. If you sign up for the subscription service, not only will you not have to worry about remembering to reorder and replace before they go bad, but you will also get free shipping on all of your orders.
Why should you change the water filter in your fridge regularly?
Use your own bottles and cups rather than buying bottles of water and creating more landfill.
Take up less space in your fridge by not having shelves full of water bottles.
Good tasting water is a better choice than anything else you or your family could drink.
Failing to filter the water can lead to residue in your dispenser.
Filtering your own water is cheaper than buying pre-filtered water.
When water tastes better, everyone in the house is more likely to drink it.
I use my water dispenser in my refrigerator all day every day (especially because I have a handy fruit infuser bottle that I always keep full). I don't use filtered water when I make things like tea but in our house plain old water has become the #1 drink over the last few years (making better choices!). I would guess that plain or infused water makes up 80% of what we drink in a given day.
How often you need to change your filter depends on your family. We've been changing our filter about every 6 months, so I am going to start the "every 6 months" delivery service on the filters. However, you could also choose to have them more often (every 3 months) or less often (every 12 months). I'm considering whether I need to bump up to every 3 months. Either way, the filter subscription service will save me both time and money.
I know that water filter cartridges are not a super exciting topic, but it's one of those things where once you learn something, you want to share it with everyone!
When was the last time you changed the filter in your refrigerator?