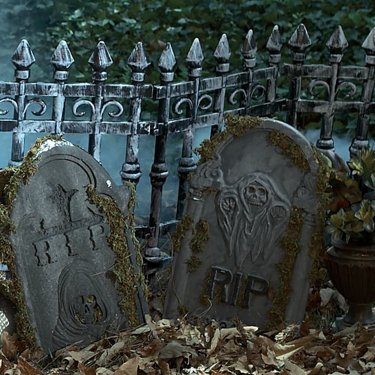 Tombstones, goblins and zombies . . . oh my! What is obscure and taboo every other day of the year makes us absolutely normal for one blissful 24 hour period. (I mean, let's face it . . . if you tossed bloody bodies on the front lawn any other day of the year the neighbor's might talk.)
If you are looking to voice that slightly creepy part of your imagination this Halloween read on to find our fab-ghoul-ous guide to creating the perfect knock em' dead cemetery for your front yard.
How to Create Tombstones
Super easy to create, tombstones are a great and inexpensive way to add a little "holiday cheer" to your scary decorations even if you aren't going all out with a massive cemetery haunt. To create a tombstone all you need is a box cutter, foam, grey, white and black spray paint along with a white paint marker.
Simply lay down the foam and cut with a box cutter into the shape of a tombstone. Use a flower planter to trace round edges. Once cut out, begin to spray on the alternating colors. Use a sponge to create a "granite" look by dabbing the tombstone all over to mix the colors. Just before the paint dries, spray paint a slightly darker color along the edges. That will give it an older look.
After all the paint dries, write on words and names of your choice. Here are a few of our favorite wacky ways to die and other quirky tombstone writings . . . (you can of course come up with your own verse according to your overall personality and look of your cemetery.)
"Herman Willy – blown away by three bean chili"

"Ester Smith – Preceded in passing by her beloved husband, Rupert"

"Rupert Smith – nagged to death"

"Vy Agra – No longer getting up"

"Al Dente – Died just right"
For realistic looking moss, simply collect your drier lint for a few weeks. Mix with a paste of craft glue and a couple shades of green paint, then apply to various areas of your tombstones. Let it dry. Viola!
Floral arrangement stakes are perfect for driving your tombstones securely in the ground. Place three stakes up the bottom of each Styrofoam prop and stake them into the lawn. If you have a mound of dirt in front of it, you'll have a grave that looks "freshly dug".
Fabulous Cemetery Ideas
Go creepy with miscellaneous items found in the back of your imagination. Close your eyes – what do you see? Is there a machete in your cemetery? Who cares why it's there – if it creeps you out go faux and place a plastic yet realistic one in a tombstone. Want a living dead revival? Stake a few faux body parts from beyond the grave … above the grave.
Creating the perfect Halloween cemetery is a work of art – so don't be afraid to put your signature on yours. Halloween is the perfect time to let your imagination soar – even the slightly twisted, where-did-that-thought-come-from ideas that make you scratch your head and question your sanity. It's an anything goes art form and this, my friend, is your masterpiece!
Written by Chris Molnar, a party Dad who can't wait for his daughters to no longer be scared of Halloween! (His two year old pulled her hat over her eyes and crossed her arms while in her stroller during a recent trip to the zoo, where they had a huge Halloween celebration. So cute, but come on!) Click here for some of Chris's party ideas for Halloween.