With news that casting is now complete for the "Fifty Shades of Grey" movie, I have no doubt that we will be starting to hear about a lot more marketing tie-ins. What could be more appropriate based on the book then a collection of wine? I was intrigued when I heard about it, until I saw the price. But we'll get to that in a minute.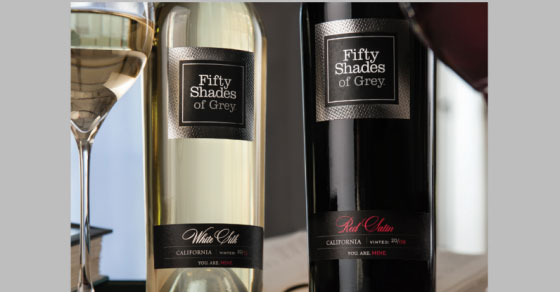 The Fifty Shades of Grey Wine Collection is made up of White Silk and Red Satin. According to the website, the white wine is a blend of Gewurztraminer and Sauvignon Blanc. For my Riesling and Moscato-loving girlfriends, that means you should give it a shot. It may not be as sweet as you like but it also shouldn't be too dry. And it's aged in stainless steel, which means it won't have the oakiness that you don't like in a lot of Chardonnays.
The red is blend of Petite Sirah and Syrah. Yes, those are actually two different types of grapes even though it looks like a misspelling. You'll have to really be a fan of red wine to enjoy that one. I'm guessing that it will be fairly dry and definitely not very sweet. It definitely looks like the wines were made to appeal to true wine drinkers and not just people who like the books and want to buy anything associated with it. That's a good thing!
Now to get to the price. You can order the wine through their website for $17.99 a bottle with a really high flat rate shipping of $10. It will also reportedly be showing up at retailers across the United States this month for the same price, but we have not seen it yet.
The best deal? Wine.com is selling it for $17.99 as well and they often run really good 1 penny shipping deals.
I have to really like a wine to spend $18 a bottle on it. The quality has to be there. I didn't even spend $18 a bottle on my Champagne of the month club. I'm afraid that a big part of what you are paying for with this wine is the name and the promotion behind it. I could be wrong! I won't know until I taste it. I've had bottles of wine that were $6 that were great (from WSJ Wine Club) and bottles that were $30 that I didn't like at all. So it's definitely a personal preference.
The other down side is that it is a little pricey if you plan on having some kind of Fifty Shades party for your girlfriends and including the wine. I don't know about your friends, but most of us do not spend that much a bottle on party wine.
Would it make a fun gift for a friend or spouse along with something Fifty Shades related? Definitely. Will I try it just to see what it is like? Most likely. Will I be running out looking for it all over the place? Probably not.
Are you interested in trying the Fifty Shades wine? Have you tried it yet?