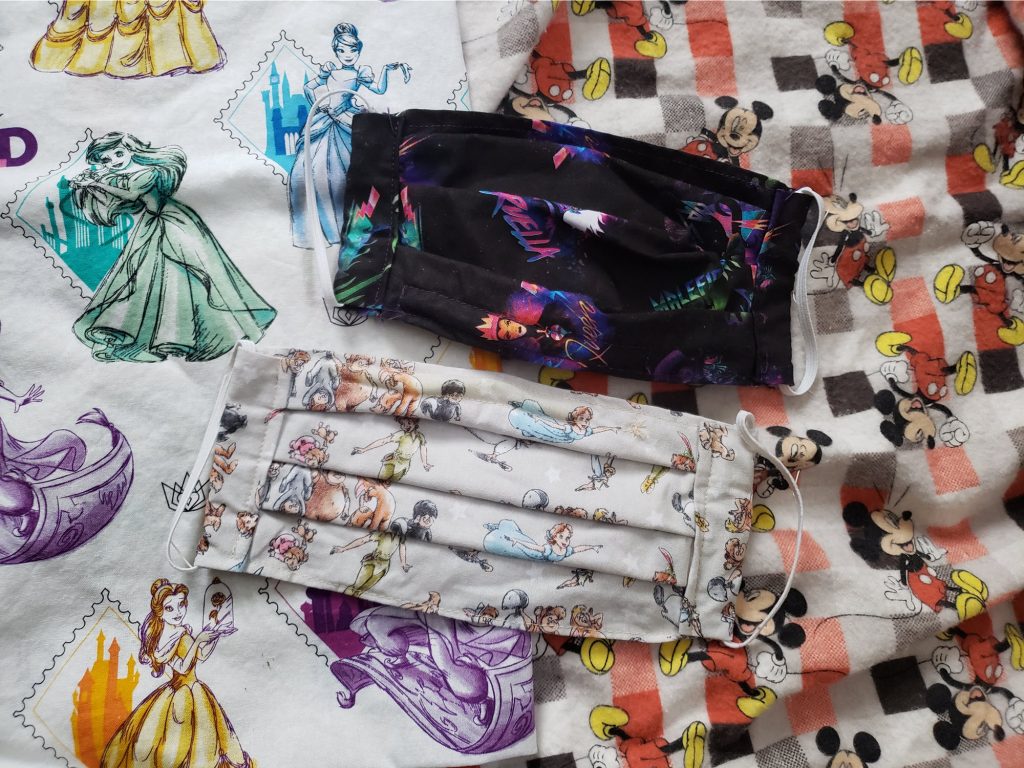 Post Edit: 4/30/20: Disney is now selling its own branded face masks in packs of 4 for $19.99. They won't ship until July but you could always order them now to have them for a trip later this year or for when school starts. If you want something sooner, keep reading for options!
Post Edit: 05/26/20: Redbubble is selling HUNDREDS of different patterns of Disney-inspired masks! They start at $10. You can pretty much find any theme that you want.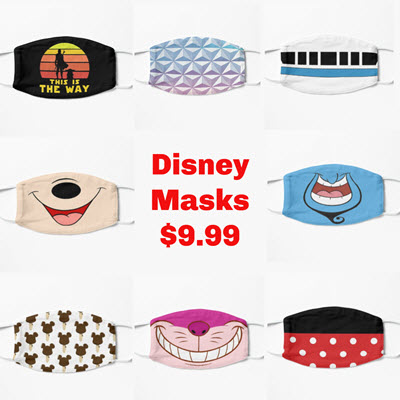 Original Post:
It may be too early to start thinking about trips back to Disney, but a girl can dream, right? Our family is still hoping that our July Walt Disney World trip will happen, but we know that it will likely come with a lot of changes–including wearing masks while traveling and in the park.
Luckily for us, our face masks are already Disney! This is because I have been making my family's masks and my kids asked for Disney masks from the start. If you're going to wear a mask, you might as well pick your pattern, right?
I know not everyone is in a position to make their own masks so I went searching online for options and ended up on one of my favorite sites for when I want something homemade but don't have time to do it myself (like Disney Cruise fish extender gifts)–Etsy!!
Etsy did not disappoint me. They have a whole range of different Disney-inspired face masks both in kid and adult sizes. They also have different mask types and a lot of different fabric patterns.
Having spent the last few weeks researching patterns, fabrics, etc, here are some tips for figuring out which masks are right for you and your family:
Check the shipping date. Etsy sellers are independent and these products are in high demand. Make sure the one you are ordering will be able to get to you by the time you need it. Otherwise, it is worthless.
Look for adult and kid sizes. There can be a range of several inches on the masks and they can be either extremely uncomfortable or even completely ineffective if you do not get the size that fits you best.
Consider a filter pocket. Right now it's hard to get HEPA filters but in the coming months it may be easier and that extra layer of protection you can slip in the pocket is worth it. We don know for sure what kind of filters are really effective yet for COVID-19 but hopefully we will be learning more as time goes on.
Look for washable masks. You may be wearing these masks a LOT for months to come and want to be able to easily wash them–particularly in hot water.
Consider buying in bulk. If you can get a discount by purchasing several from the same seller, you will be able to have a couple for each person in your family. This will be extremely helpful when you are traveling or when they get sweaty during the summer.
Compare elastic versus ties/ribbons. My daughter likes her mask with ties better than her mask with elastic if she has to wear it more than an hour. But the ones with elastic are better if you are just grabbing them to wear for a short time. Consider getting one of each if possible.
Pick a fun pattern. Obviously you want a Disney mask or you wouldn't be reading this post! But you don't have to stick to Mickey and Minnie. One of my kids actually wears Disney Villains! I've seen Star Wars, Disney Princesses, Eeyore, Stitch, and more.
More and more people are starting to make the masks and sell them on Etsy, so they are getting cheaper and easier to find. However, as states start passing laws requiring people to wear them and demand increases even more, that may change. Check out all of the options at Etsy today and order yours soon!
Post Edit 05-05-2020: A friend of mine, Heather, ended up ordering these and sent me this feedback!

"I recently purchased a Mickey Mouse mask from ThatsSewMcFly. It's well-constructed. The wire in the nose-bridge area is strong. This mask uses ties, which I like for security, and I could comfortable wear both it and my glasses at the same time. It is washable and reversible–great to match multiple outfits! Shipping from Central Florida to Massachusetts was fast and reasonably priced."
I love hearing from people who made successful purchases!
(Obviously this post is about Disney face masks MEDICAL and not the kind of face masks you use for glowing skin–I have gotten some search traffic that is confusing!)
(Another note– although we are all looking for these right now because of COVID-19 (coronavirus) I can´t make any medical guarantees about how they work because really none of us know for sure!)