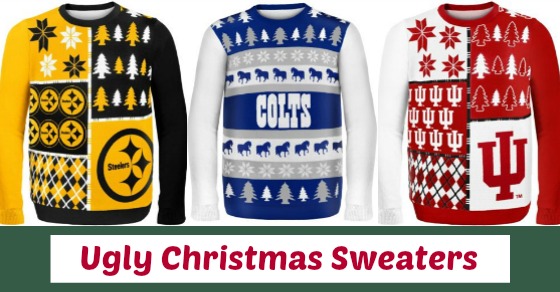 Every year someone in my house ends up needing an "Ugly Christmas Sweater" either for theme day at school or a party. Sadly, we now often wear sweaters that I actually wore for REAL not too many years ago (and even had our family picture taken while wearing). Ugly Christmas sweaters have become a novelty and do not seem to be going anywhere soon.
Fanatics has taken the Ugly Sweater to a new level with a line made for sports fans. Right now they have 153 different sweaters available on their site and you can find NFL, MLB, NBA, and college teams. Some teams actually have 2 sweaters in different styles–one with the stripes and the team name and the other one more of a block pattern with the team logo.
The great thing about these sweaters is that you could actually wear them to an Ugly Christmas Sweater Party or just wear them to support your team. I know many fans who look absolutely ridiculous in their fan gear. Who cares? The more outrageous you look, the more you are showing your team spirit.
On the flip side, you could buy one for a team that you hate just to make fun of them. (I'm looking at you, Baltimore.)
Although these are called "Ugly Sweaters" and definitely fit the bill, I think the fact that they are fan gear actually makes them kind of kitschy. I'll definitely be buying myself one of the Pittsburgh Steelers designs but the question is whether I will only wear it to Ugly Christmas Sweater Parties or if I will end up wearing it every Sunday? I guess we shall see!
(P.S. Visit Fanatics now and get free 3-day shipping on orders over $50. Plus you earn Fan Cash on every purchase over $50 so that you will have money toward a future order!)
Here are just some of the teams featured: Arkansas Razorbacks, Indiana Hoosiers, Kentucky Wildcats, Michigan Wolverines, Chicago Bears, Denver Broncos, Green Bay Packers, New York Giants and Jets, Boston Celtics, Chicago Blackhawks, Pittsburgh Penguins.
What do you think? Would you wear one? Would you only wear it as a joke or would you wear it to cheer on your team?