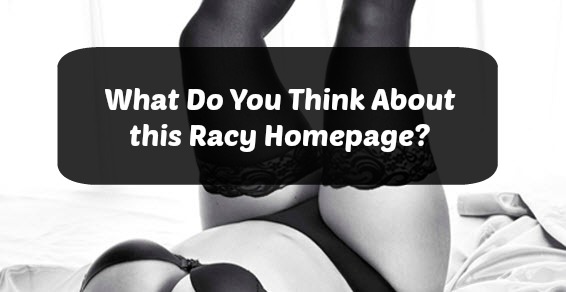 Today I was going through my normal list of Daily Deals looking for things that I want to promote. After so many years in online marketing, I usually do not get distracted by images on pages. I know right where the deals are and I head straight to them.
Today's Torrid homepage caught me completely off-guard. It featured a sexy woman lying on her back in lingerie with her legs in the air. It wasn't the lingerie or the sexy imagery in general that got me–it was the fact that she looked REAL!
I found myself staring at her legs, belly, and chest. It wasn't all perfectly flat. But it was beautiful!
I see a lot of lingerie ads online from Maidenform to Macy's to Victoria's Secret. I never look very closely at them because I know I'll just find myself thinking "Of course she looks good in that…she's so thin she would look good in anything. That's not me."
For the first time, I looked at an ad and thought "I might actually look like that!" (although she probably actually is smaller than me still and is definitely much younger!) Talking with my girlfriends this week, we all acknowledge that most of us hate the way that we look but think that our friends are gorgeous…the same friends who also hate how they look. It's a sad thing that we can see the beauty in others not not ourselves.
I think this ad is a step in the right direction of changing that…in it's own way. Seeing this ad doesn't make me want to skip lunch or get a prescription for Adipex. It makes me think that maybe…just maybe…being a normal-sized woman is actually sexy.
If you don't know, Torrid is a fashion site for sizes 12 to 28. While the model obviously isn't a 28, I don't think she is a 12 either. She's probably on the low end of their sizing–maybe even a 14 or 16. But compared to what we normally see online, this page is shockingly more realistic.
So I'm curious what you think about the image. I'm including a screen shot below of the full image just in case they have changed the homepage before you read this post.
Men, when you look at it do you find it sexy or are you immediately thinking that she looks "fat" because you are conditioned to seeing only skinny women (online or otherwise)?
Women, does it make you feel better to see a woman who is more average or would you look at the picture and think "I don't want to look like that"?