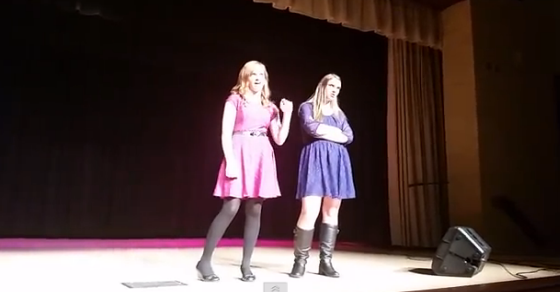 What kind of mom would I be if I didn't use my blog to brag about my kids at least a little bit?
Last week was the school talent show and my older daughter, Jillian, sang a song from Wicked with her best friend Sam. I was so proud of them! They choreographed and practiced it all completely themselves. In fact, I had not even seen it until they performed it.
I love seeing my girls enjoy performing for so many different reasons. First, I like the confidence that they have. I hope that they will continue to have that kind of confidence as they move into adulthood. Second, it reminds me of me when I was their age. In particular seeing Jillian and Sam perform reminds me of me and my best friend in high school, Amy. Lastly, I love that they have found a "place" for themselves in the music and theater community. It's important for kids to have a "place." A lot of other kids find that place in sports, but that just wasn't in the cards for my family. So knowing that they are at home among the other choir, band, theater, and speech team kids makes me happy.
So here it is if you want to indulge me! "What is this Feeling?" from Wicked. (My daughter is the one in blue!) It's from the Riverside Junior High Talent Show.