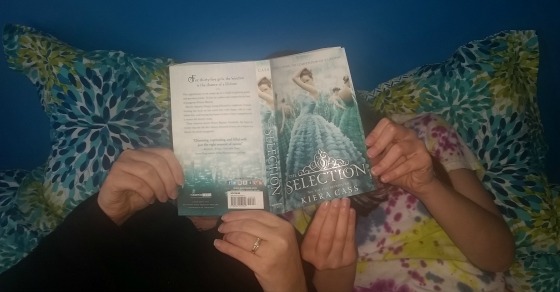 A couple of years ago my teen daughter and I started reading some of the same books. It was slow at first as I was trying to find things that were age appropriate for her and that I would enjoy as well. Given that I love Young Adult books, it started to really pick up once she became a teenager. Up until recently, I always picked and read the books first. If I loved it, I would recommend it to her. With The Selection by Kiera Cass, for the first time, SHE picked and and read a book first and I was the one reading it because of HER recommendation.
Jillian got a copy of the book from one of her friends and read it in one weekend. She immediately jumped into the subsequent books in the series (The Elite and The One) before I could even start the first. She and her girlfriends were practically swooning over the books–posting pictures of themselves on Instagram in poses like America and picking who they think should play American and Prince Maxon.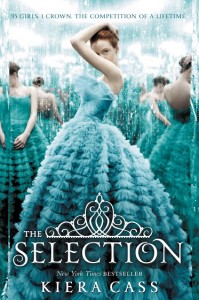 I knew I needed to get caught up quickly before she spoiled any of it for me so I jumped in as soon as I got my copy. I was hooked from the start! The story is kinds of cross between a Dystopian future and the Bachelor. But describing it like that doesn't really do it justice. The main character, America, is "selected" to compete to marry the Prince. She's an opinionated young woman who doesn't really have any interest in becoming a princess, especially compared to the rest of the competitors. In fact, she spends a lot of time early on trying to sabotage her own selection process.
The book was a very quick read and was an interesting characterization of how a country can get hooked into the "entertainment" of real life dramas like weddings and royalty. In that, it was very indicative of a lot of what we see on television. In addition, it was interesting to see the different types of women competing to be selected and the lengths that they were willing to go to.
I have to admit that when I finished The Selection, I immediately bought the Kindle versions of the rest of the series. I just couldn't wait to know how it ended! As with most good YA series, there was a love triangle and I couldn't figure out which way I wanted it to go. One of the things that I appreciated about the books was that although there was romance, it did not go too far physically such that I had to be concerned about my 14-year-old reading it.
In addition to the 2 other books in the series that I already read, the series is going to be extended with the release of a 4th book, The Heir. Don't go reading anything about that one, though, until you have read the first 3 books otherwise some of the plot twists will be spoiled for you! Suffice to say that it looks like the book will be taking the series in a slightly new direction. I already have that one on pre-order for May 5 so that Jillian and I can both start reading it as soon as it comes out!
I'll finish up this post with just a couple of quotes to give you an idea of why I fell in love with the book!
"True love is usually the most inconvenient kind."
"I hope you find someone you can't live without.I really do. And I hope you never have to know what it's like to have to try and live without them."
"No, I'm not choosing him or you. I'm choosing me."
I was selected for this opportunity as a member of Clever Girls and the content and opinions expressed here are all my own.