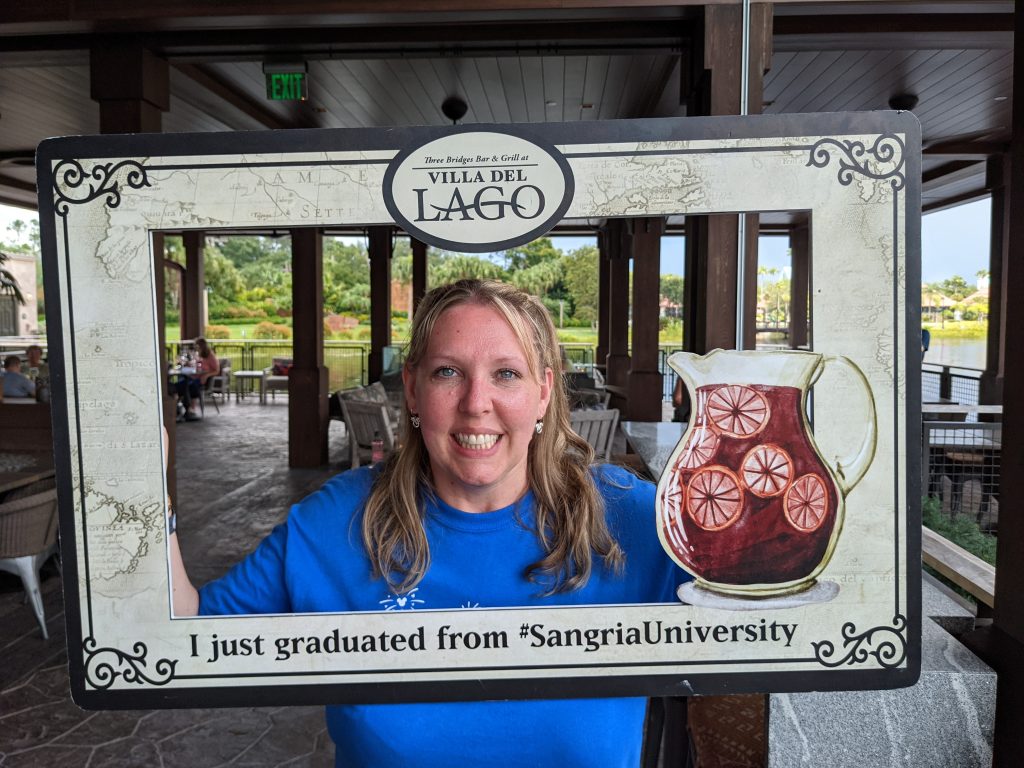 I thought I was done with my education until I found out I could attend Sangria University at Walt Disney World. What's the harm in getting one more degree? Especially a tasty one for only $45!
As soon as I heard about a sangria tasting at Disney, I knew my husband and I would want to try it out. Strangely, there isn't much online about this one. In fact, you can't even book it online. You have to send an email to "wdw.sangria.university@disney.com" and book it via email. You don't pay up front but rather at the end of the session.
The "class" is held at Three Bridges Bar and Grill at Villa del Lago. This is basically in the middle of the lake at Coronado Springs. We hadn't been there since it had been built but it was fairly easy to find. If you are taking a bus, get off at the main hotel exit and then walk through the hotel to the lake and take any of the "three bridges" to the bar in the middle of it.
As of right now, classes are only held on Saturdays and Sundays at 2:30pm but you can schedule private sessions if you have a group of 10 or more. All parties were seated at their own tables for social distancing, and the class was outdoors (under cover) so we had a nice breeze blowing through. We had the pleasure of watching a huge rainstorm all around us that thankfully ended before we had to walk back across the bridge!
So what about the sangria?? This is what each person's individual setup looked like: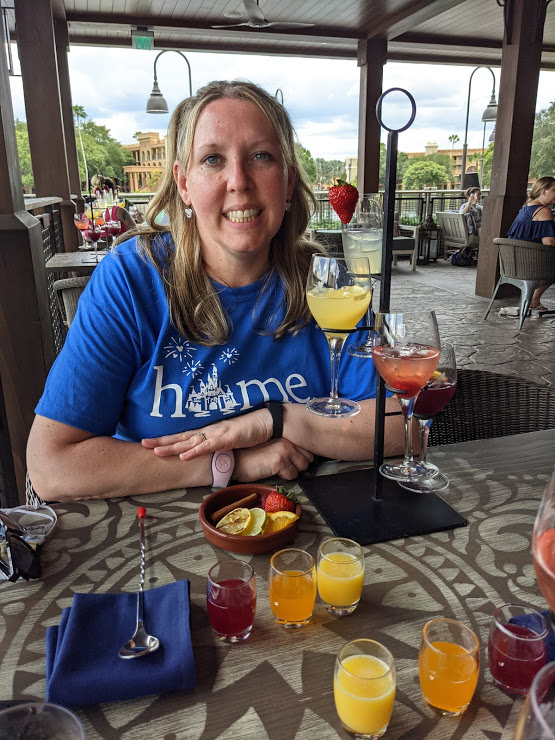 The carrier held 4 completely different sangrias made with different types of wine (sparkling (Cava), white (Blanco), rose (Rosada), and red (Tinto), different juices, and different alcohols including apricot, orange, peach, and passion fruit. The glasses were not completely full but they were definitely big enough pours for you to really sample the sangrias.
On the table were a variety of fruits and juices. This was for after you learned about the first 4. You were given the chance to choose your own wine, juice, and alcohol to create a signature combination and prove that you earned your "degree." That was really interesting because you could definitely take what you learned in the tasting and figure out your own perfect sangria. My favorite was the sparkling, which isn't a surprise because I am known for loving Champagne of the Month Clubs.
Here were the different alcohols you could choose from. Some were included in the price and for others there was an additional charge: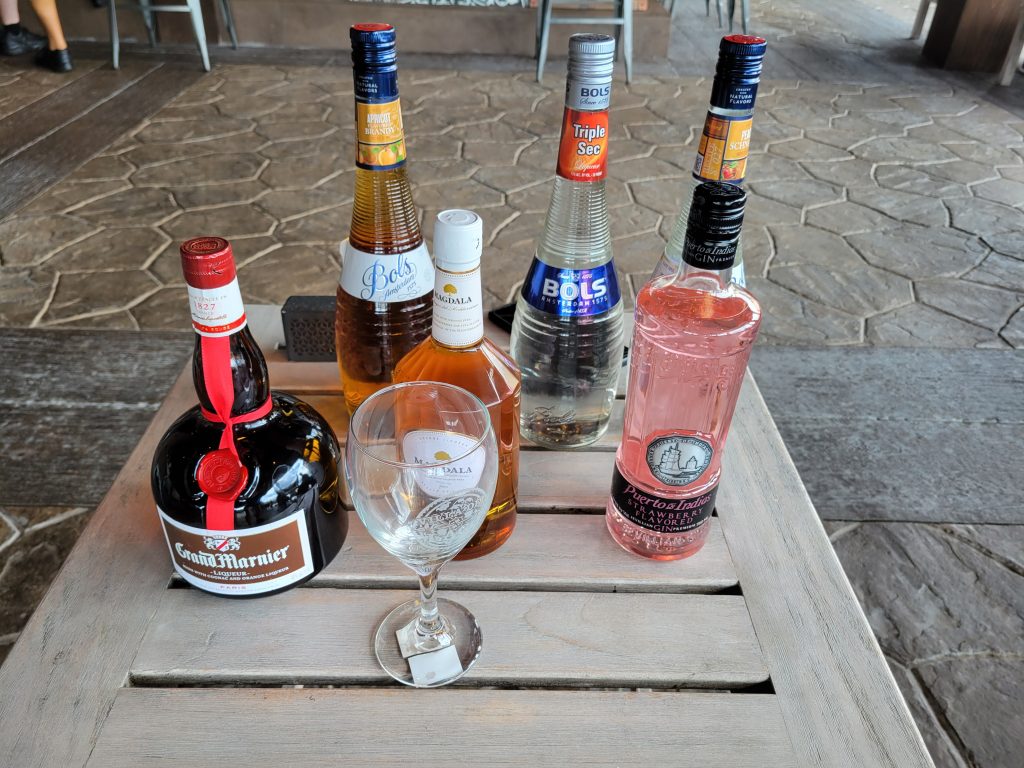 I would be remiss if I didn't mention the chips and house made guacamole everyone was given with their sangrias. I'm a guacamole snob and it was delicious! Almost worth going back just for that!
The whole event didn't take more than 60-90 minutes (depending on where you were sitting and how long it took to get served the ingredients for your final sangria). Did I learn anything earthshattering? Nope. Was it worth $45 for 5 glasses of sangria plus the chips and guac? Absolutely.
Incidentally, outside of the class you can pay $13 a glass for these same sangrias at the bar plus $12 for the chips and guacamole. You can also get a Sangria flight of all 4 for $21 (obviously it's cheaper because the glasses are not as big and you don't get the bonus 5th "make your own"). So if you want to try everything included in the "class" but want to save some money or don't think you can drink enough of each of the glasses to make it worth the full $45, that's an option any time.
When my girls turn 21, I will probably take them to this class if it is still offered. It's a nice low key way to try some different flavors and the atmosphere was very relaxing. I'm not a wine expert, but I do love reviewing wine clubs and wine events!
Have you attended Sangria University at Disney? What was your experience like?