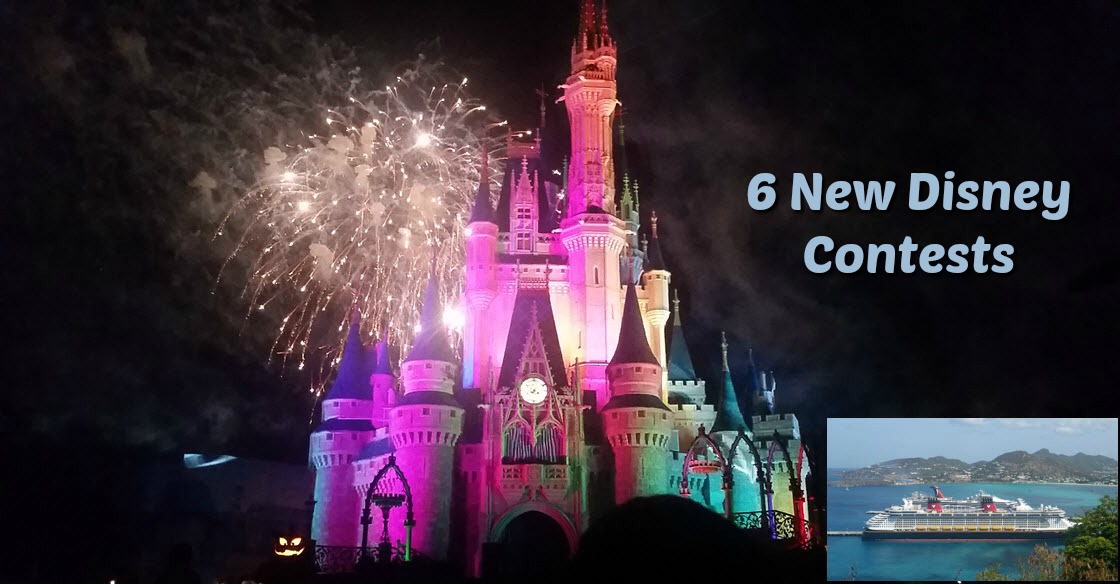 One of our most popular posts ever was our post on Disney contests, so we are doing it again! Here are some of our favorite REPUTABLE Disney contests available this month. As easy as it is to enter, you might as well give it a shot!
Zootopia Adventure Sweepstakes (Disney Movie Rewards) Win a trip for 4 to Disney World. Includes airfare, 4 nights of hotel, 5 day Park Hopper passes, a $500 Disney Gift Card, and a Wild Africa Trek expedition at Animal Kingdom. Ends August 5, 2016.
Land & Sea Vacation Sweepstakes (Disney Family Movies) Sign in to your Disney account (which I am sure you have if you love Disney as much as me) to enter. Grand prize is a 4 night Disney Cruise and 3 nights at Walt Disney World for 4 people. Includes airfare, Park Hopper tickets, ground transportation, and pre-paid gratuities on the ship.   Ends August 1, 2016.
The Chew's Magical Culinary Adventure Sweepstakes (The Chew and Hidden Valley Ranch) Win a trip to Disney World for Food & Wine Festival. Trip for 4 includes 4 nights in a Disney World hotel, airfare, Park Hopper tickets, tickets to a taping of The Chew, a $500 Disney Gift Card, and a Disney Signature Dining Experience. The trip must be taken between October 6 and October 9. Ends September 2, 2016.
Disneyland Diamond Days Sweepstakes (Disneyland) There are a LOT of prizes up for grabs here including Disneyland tickets and VIP experiences. However, there are also weekly prizes of a trip for 4 to Disneyland for 2 nights including airfare, Disney hotel, Park Hopper passes, and a random "special" prize that could include a 1-night stay in the Disneyland Dream Suite! Ends September 9, 2016.
Zebra Wild Adventure Vacation (Little Debbie) This one is not officially Disney but still a major brand. Win a trip to 4 to Disney World including airfare, 4 nights at Animal Kingdom Lodge, 4 1-day EPCOT tickets and 4 1-day Animal Kingdom tickets. Ends August 31, 2016.
Discover New Wonder Cruise Vacation Sweepstakes (Disney Cruise Line) When Disney Cruise Line runs a contest, you know it is legit! Win a 4 night cruise for 4 on the Disney Wonder. Ends August 4, 2016.
Happily Ever After with Disney Honeymoons (Alfred Angelo) Enter to win a 5 night stay a a Disney World Resort including 2 5-day Park Hopper Tickets and a $500 Disney Gift Card. Ends July 31, 2016.
Dog Days Sweeps (Disney Movie Rewards) It's not a vacation, but it's a $1000 Disney Gift Card! Ends September 30, 2016.
Ongoing contests if you missed the last post:
K.C. Undercover: Mission Vacation Sweepstakes (Disney Channel and Best Western) Win a 3 day, 2 night trip to L.A. to meet Zendaya, star of the Disney Channel show K.C. Undercover. Ends September 4, 2016.
Dream Big Princess Sweepstakes (Disney Movie Rewards) Win a trip for 4 to Walt Disney World including your choice of a "Dream Big" Adventure. Lots of first, second, and third prizes. Ends August 26, 2016.
And don't forget that you can Earn Disney Gift Cards for Free at Sunshine Rewards!