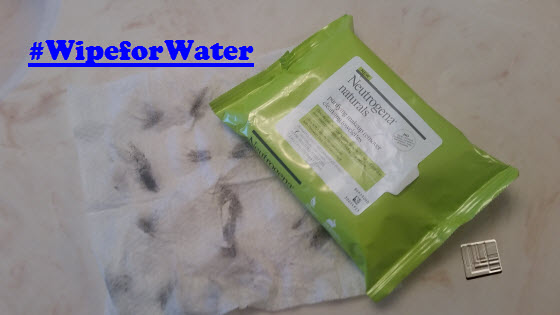 I have to admit that I am one of those people who is terrible about taking off my eye makeup. I'm pretty good at scrubbing my face before I go to bed and applying moisturizer, but taking off mascara just seems like an extra step that I don't have time for.
I was lucky enough to get a package of Neutrogena Naturals Purifying Makeup Remover Cleansing Wipes through Influenster to try out. For two weeks I used the wipes every night to take off my makeup. You can see from the picture above just how much mascara and eye liner I was leaving behind on those nights that I didn't remove it. I can't believe I was leaving all of that to get on my pillow and the rest of my face while I was sleeping! The wipes are so convenient and smooth and didn't bother my contacts at all! It took less time to wash my whole face INCLUDING the eye makeup with the wipes than what it was taking just to wash my face before.
I loved the feel of my skin after using the wipes and did not see any increase in breakouts or anything like that after using them. I was worried that they were not getting my face as clean as my normal cleanser because it was almost TOO easy. But I didn't notice any difference in my skin.
Neutrogena is partnering with The Nature Conservancy and ASAP to save water. I took the #WipeforWater challenge by cleaning my face every day for a week with the wipes rather than my usual cleanser and water. For everyone who takes the pledge, Neutrogena will donate $1 to The Nature Conservancy to support water conservation.
I don't always end up buying products after I test them, but I will definitely be buying more of these. I'll likely combine using them with my regular cleanser. Sometimes I like a quick clean and the wipe is handy for that. Other times I like a good exfoliation and will use my other products. The wipes are also perfect for my daughter who I have a hard time motivating to spend a lot of time cleaning her face. And with the brand name Neutrogena behind them, I know that they will be good for her skin.