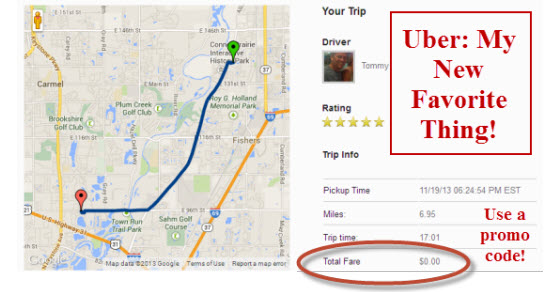 I love Uber. Why did it take me so long to get on the bandwagon? I guess I was saving up my first time use promo code for when I REALLY felt like it was important to use it. While my friends were using it in Philadelphia and Denver, I was taking cabs and bumming rides off friends. It wasn't until they came to Indianapolis that I started paying more attention. (I do listen to you Eric Nagel, I'm just a little slow sometimes.)
For those of you who haven't heard of it (which probably includes all of my Indy friends), Uber is basically a private car service that uses technology in incredible ways, is affordable, and is much more personal than any other public transportation I have ever used.
First you create an account. If you use my promo code (ubertricia), you get $10 for your first ride (can be any city, not just Indianapolis) and I get $10 for my next ride. Sweet deal. You put in your credit card information up front. I think they also are taking PayPal now.
Then you download the app to your phone. I have an Android, but they are also on iPhone.
You can play around with it without having to actually book anything. In Indy we have UberX and Black Cars. UberX is a little bit cheaper. Other cities have different options. Using your phone's GPS, it will pick up exactly where you are and you can type in where you want to go. It will show you how long it will take a driver to get to you and how much they estimate the fare would be.
If you decide you want to book, you just click a button and a confirmation will pop up on your screen. One thing that I messed up the first time is that I had to verify my cell phone when I did the first booking before I could actually book. Once I verified my cell phone, the next time I clicked the button it booked it.
Once you see the confirmation pop up, it gets even more cool. You see a picture of your driver along with their name, the make of their car, and their license plate number. You can then watch the car on GPS as it approaches you. We watched it for 15 minutes just mesmerized.
When the car is almost to you, you get a text message that they have arrived. You hop in the car and tell them where to take you. At the end, you don't have to sign anything or even open your wallet. The app takes care of everything. Even the tip is included in your fare quote!
Within half an hour of our ride I received a message asking me to rate my driver. I also received a receipt via email. If we wanted to, we could have even split the cost up among multiple travelers. I rated my driver and left a positive comment.
We've never, ever gotten any kind of car service from our house in Fishers. I don't know if we even have cabs out here. But we have Uber now! It cost us $15 for 4 of us to be driven from our house to a local winery for a wine club dinner. Then it was $15 home (about a 15 minute drive). It was perfect because we didn't have to worry about drinking or the cold weather or anything. Door to door service for a night out!
The only bad news I have for you is that Uber is not yet available in all cities, but they are expanding. Check the site to see if yours is available yet. I know they have it in Atlanta, Boston, Chicago, Denver, Los Angeles, Phoenix, San Diego, Seattle, Washington D.C., Baltimore, Columbus, Detroit, Dallas, Minneapolis, New York City, Philadelphia, and a handful of others.
If you live in a city where Uber is available or will be traveling to one, you should definitely check it out. It is particularly nice living in a suburb where there is no real public transportation. But I know people that use it in bigger cities as well for airport runs and nights out.
Have you tried Uber yet? What did you think?