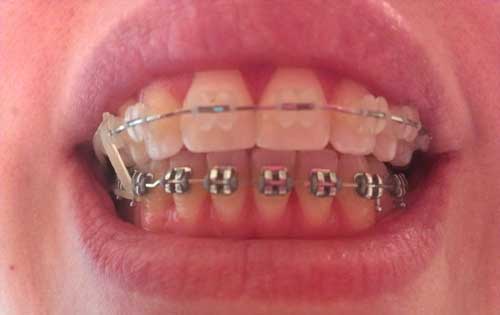 It's been 4 months since I last wrote about my braces, and that is because there really wasn't much to report. I'm now 14 months into the process with approximately 10 months to go (although I am hoping for 9 months left to have them off by Christmas).
Ever since I started my triangle elastics (rubber bands), I have not seen a lot of progress. I know this is the slow part, but it feels discouraging sometimes. I did go from having to wear them on both sides to only having to wear them on one side. Right now we are lining up the "midlines" and I think pulling back the overbite. I do wear them every night but I have to admit that I am not as good about wearing them during the day. I probably wear them on average about 5 hours during the day when I really should be wearing them more like 10 hours.
The bands are only slightly annoying now, especially when I can take them out if I really have to. But I find that I do leave them in when I am shopping, exercising, etc. even if I am going to see other people. I think only having it on one side is much less noticeable then when it was on both.
Making Progress (But Slowly)
You can see below the slow progress. That's 4 months of trying to get the midlines exactly center. My bottom teeth moved pretty quickly but the top teeth are not budging quite so much.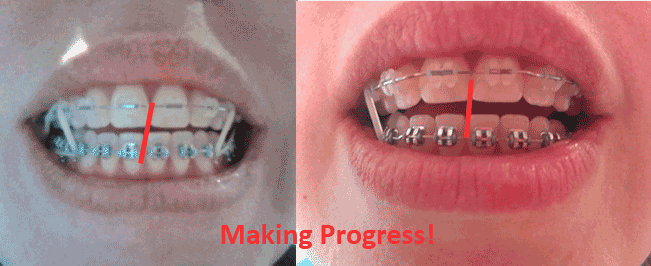 Although I continue to get more used to the braces, I am also getting tired of continuously having them. When you start to see less progress each month, it is hard to stay motivated. One thing that will motivate me is seeing my daughter get her braces off in August. Once we make it to that, I will only have 3-4 months left and will be in the home stretch!
Edited: Want to see what my teeth look like after 6 months of elastics? Read: Mom Gets Braces: Know When to Hold 'Em (9)
For more in my braces saga, you can check out my previous posts: