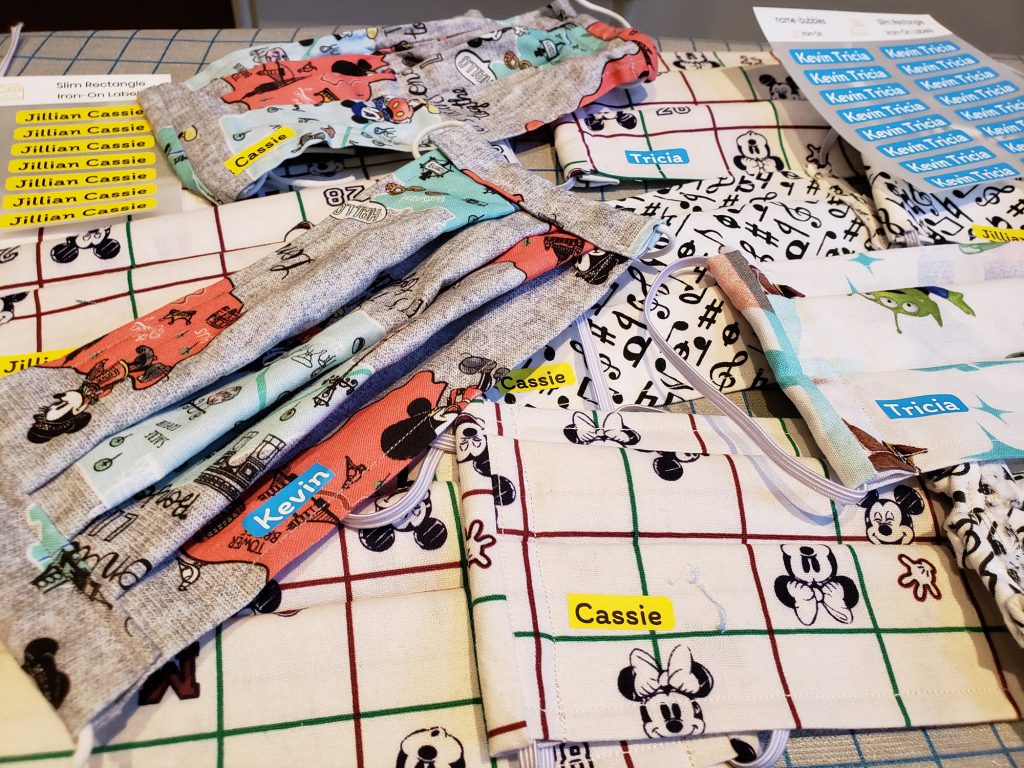 Update! Save 20% on all Face Mask Labels + Iron-On Clothing Labels with code BUBBLE20 until 12/31
When I first started making face masks for my family back in March, I had no idea that my kitchen table would still be a work zone 4 months later. I discovered last week after doing a load of laundry that I needed a way to tell whose masks were whose. I often make 4 masks out of the same material but in slightly different ways–small head for Jillian, nose piece for Kevin, flat elastic for Cassie…. But I do NOT want to have to spend that much time looking at each one to figure out who it belongs to every time I wash it.
Plus, with the kids heading back to school and other activities over the coming weeks, I don't want their masks all "wandering off" when other people realize they have lost theirs.
I considered just writing on the back of them with Sharpies, but that seemed ugly considering how much time I have spent making cute Disney masks. Plus, some of the fabrics are so dark colored that you wouldn't be able to see them.
I remembered a random Tweet about Name Bubbles from months ago and decided to check them out. Name Bubbles makes all kinds of tags for clothes. You can get sticker or iron -on tags. You can customize them with different colors and get a range of sizes.
I chose a small rectangle iron-on because I don't want to have to worry about peeling no matter how many times I wash my masks, and there isn't a tag to put a sticker on. I wanted to keep the names small so I actually printed two names per tag and cut the tags in half. Looking at them on the masks, the full rectangle would have been just fine.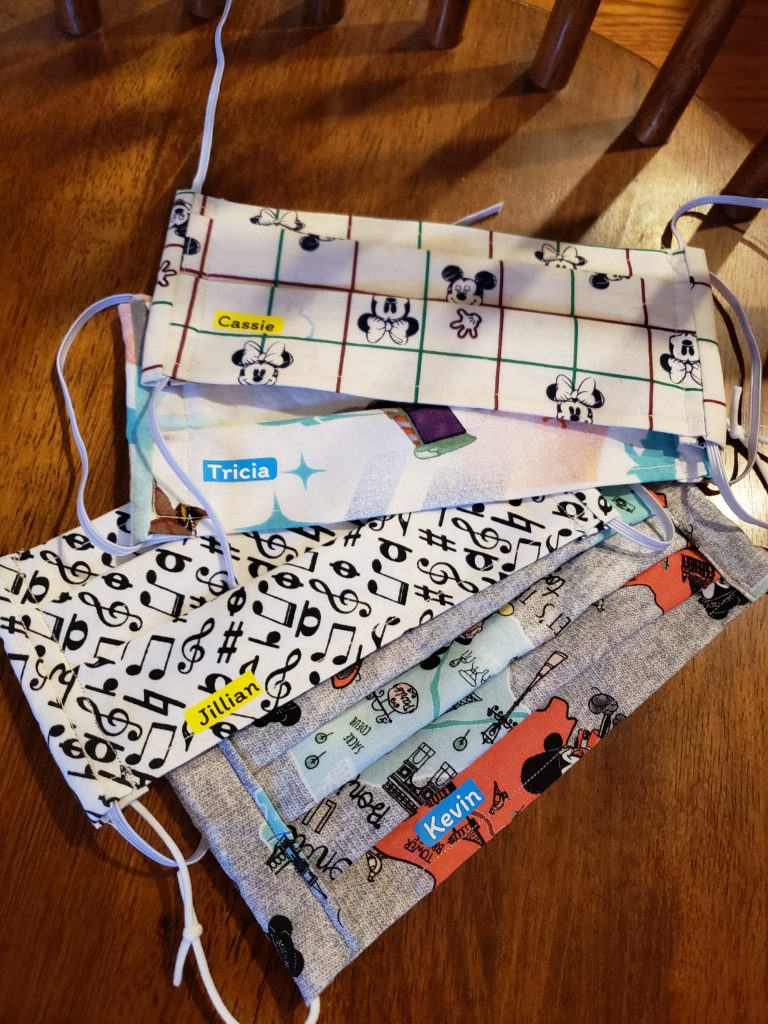 I love this solution!! My family doesn't think it is too dorky. I can quickly scan the masks to separate them after I wash them. And other kids are much less likely to try to take them if they see someone has their name ironed onto them.
One small caveat about this process. Someone in my house….who shall remain nameless….does NOT pay attention to details and that person ironed their name onto the FRONT of the mask when I asked for help. Needless to say, I will be doing the rest of the mask labeling.
Now that I have labeled the masks, I am seriously considering labeling the insides of some of my daughters' clothes because I can't tell them apart and it makes folding laundry take way too long when I am inspecting every piece of clothing for signs of who it might belong to. Why didn't I think of this years ago??
If you are interested in trying Name Bubbles, they currently have a coupons that make it a great time to order! Use coupon code BUBBLE20 for 20% off anything by 12/31.