Ever tried having a discussion with your teen daughter about dating, having sex, drinking alcohol or being exposed to drugs? If so, you may have discovered that she puts up a wall against these types of conversations.  She may be too embarrassed or too afraid to reveal what she and her friends are doing, even if she has questions.
You may also be reluctant to bring up topics like these. What do you do if she asks about your own experiences and you don't want to share them? Yet these are important issues. Talking with their moms can give girls crucial information that may keep them safe and help them make informed decisions when their peers engage in risky behavior.
This is where books can really help. When you read the same titles your daughter is reading, it gives you an entrée to talk about themes that appear in the pages—without the pressure of discussing either of your own personal details.
For instance, when the girls in my daughter's mother-daughter book club read Speak by Laurie Halse Anderson, we were able to talk about date rape and how alcohol plays a role in it. We brainstormed ways the main character could have acted to keep herself safe while at a party. This was a non-confrontational way to discuss situations the girls may face as they entered high school and started socializing with friends more and parents less.
You also benefit when you listen to concerns you daughter and her friends have. Discussing actions by a character in a book may bring up topics you never even knew they worried about. Talking about these actions is a non-threatening way to gain insight into your daughter's world and issues she may face.
Another plus is that you may hear of the topic again months later, when your daughter encounters a similar situation in real life. Once you've broken the ice, it's easier for you or your daughter to refer back to an earlier discussion. And that keeps the lines open for honest communication about even more issues in the future.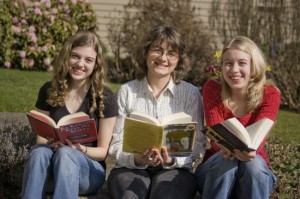 Cindy Hudson is the author of Book by Book: The Complete Guide to Creating Mother-Daughter Book Clubs (Seal Press, October 2009). She is the founder of two long-running mother-daughter book clubs, and she lives in Portland, Oregon with her husband and two daughters. Visit her online at www.MotherDaughterBookClub.com.