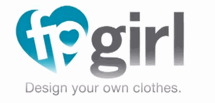 10-05-12 update with FashionPlaytes Coupon: $10 off on orders of $50 or more with code FP10 until 1/31 at FPGirl (FashionPlaytes)
Have you seen the new FPGirl commercials on television? We were ahead of the curve when we did our Fashion Playtes Review a couple of months ago because they are now everywhere! Fashion Playtes has released an easier-to-remember website, FPGirl.com. Same great, customizable products with a little twist on their name.
Since our original review, my 8-year-old has ordered even more clothes from Fashion Playtes/FPGirl. We are currently awaiting her newest creations–a short-sleeved dress for summer, a t-shirt, and matching capris. She also got a tunic-type shirt in a dark print and added on some white leggings. I have a feeling that they are going to be her favorite clothes once the weather gets warm.
As you can see in the FPGirl commercial below and from our other review, Fashion Playtes is a fun site where girls get to design their own clothes online and then have those designs turned into actual clothes. The prices are really reasonable, and I find that my daughters and I never have to argue about things like inappropriate phrases, too tight pants, or off-the-shoulder tops (like we often do at department stores). I have approved of every single piece that they have designed so far.
It's worth visiting FPGirl.com and looking around at what they have to offer and playing around with the design tool. Once you do, I am sure that you will want to order! You can also find Fashion Playtes coupons and discounts online.