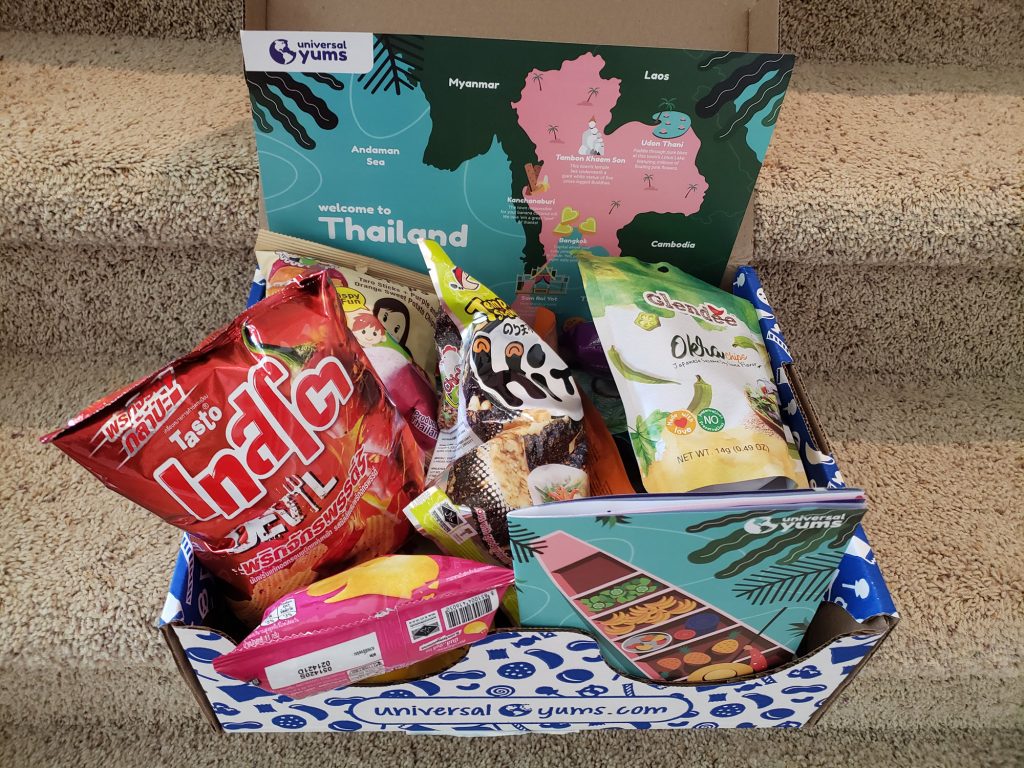 When COVID-19 first brought our family back together for an EXTENDED period of time (2 months without seeing anyone outside the family and an unexpected 5 month return home for the college student), we are looking for new things to do together besides watching Netflix and playing board/bored games.
I came across the Universal Yums company and was instantly intrigued. Whenever we go places on vacation, we always look for food tours because we love sampling the local cuisine. Could Universal Yums help cure some of our no-travel blues and give us something new to do as a family?
The concept of each box is simple. It's usually one country (with a few exceptions) and contains snacks from that country plus a pamphlet with information about each of the snacks plus trivia and education about each country. Each month you get a new box from a new country. You taste the snacks and rate them on a special form.
I don't know how you are supposed to do the box, but when my family gets it, we plan for a night where we are going to have a very light dinner and then open the box later in the evening. (we made the mistake of eating too big a dinner once and my husband was very grumpy halfway through the box because he was too full)
We open the box and everyone has a job. My husband is in charge of pulling up the playlist that Universal Yums puts together for each country. I am in charge of reading from the booklet and cutting up the snacks. Cassie is in charge of the box and finding the items. Jillian is in charge of recording the responses. Sadly, Cassie now has to do that job as well with Jillian being back at school.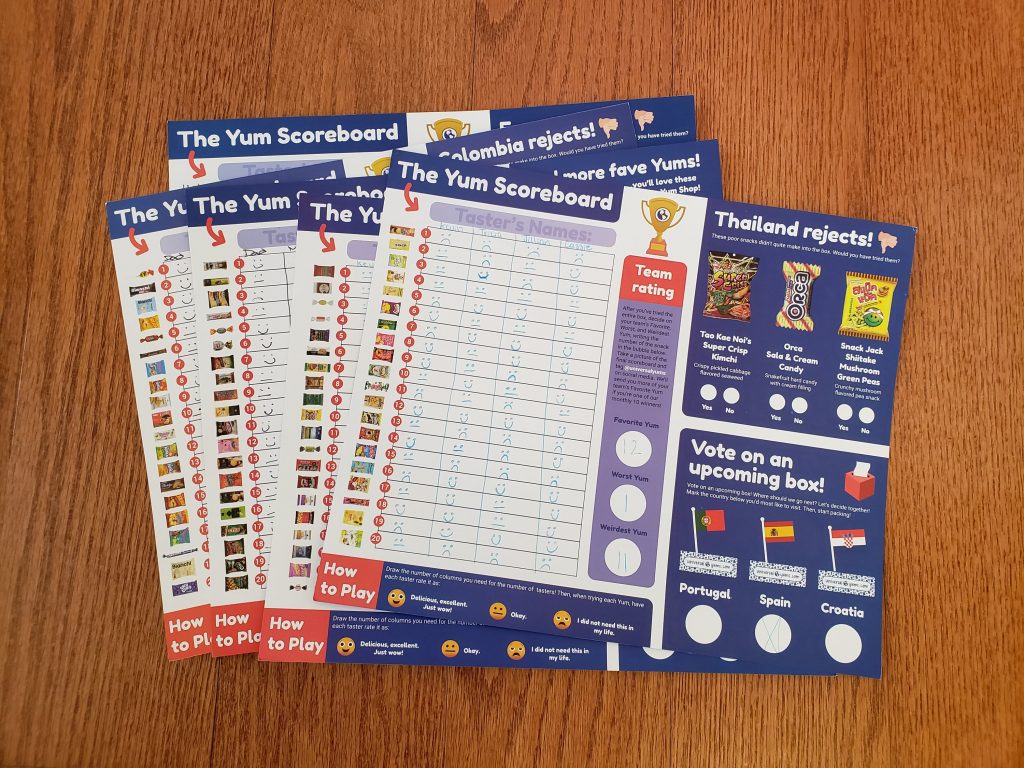 What we have discovered over the last 9 months is that we really love a lot more foods than we thought we would! Every box seems to have one stinker. For us it is usually some kind of meat-flavored potato chip–we're never fond of those. We like comparing the foods to foods in the U.S. or treats we got from other countries (who knew so many countries eat so many wafer cookies?).
As a family activity, it has become something that we look forward to every month. It's treat night plus family fun all rolled into one.
I've heard that a lot of other families spread the snacks out over several days or weeks. That would probably be the smart thing to do. But we like tasting everything side by side. We take one bite of each thing and then at the end throw out what we don't like and put everything else in ziplock bags to eat over the coming weeks. So I guess we spread it out in a way?
You can subscribe yourself on a month to month basis or send it as a gift for either 1, 3, 6, or 12 months. They boxes start at $14.67 for 5-7 snacks and go up to $37.58 for 18-20 snacks per box. (We do the big box because we don't want to miss anything!) Apparently the medium sized box of 10-12 snacks is the most popular.
We've learned so much about other countries but also about each other (Kevin likes white chocolate, Jillian likes milk chocolate, and Cassie and I like dark chocolate). Kevin is the least picky eater but apparently has the most negative opinions. We've even talked about which countries we would now like to visit just based on the food!
If you are looking for a fun family activity or a unique gift idea, check out Universal Yums. You might be surprised at what you like!
(P.S. I forgot that they also have a store on their site where you can re-order some of the things from the boxes if you really like them. I went in tonight and ordered about 10 things that we have loved over the last few months and can't wait to surprised the family with them!)