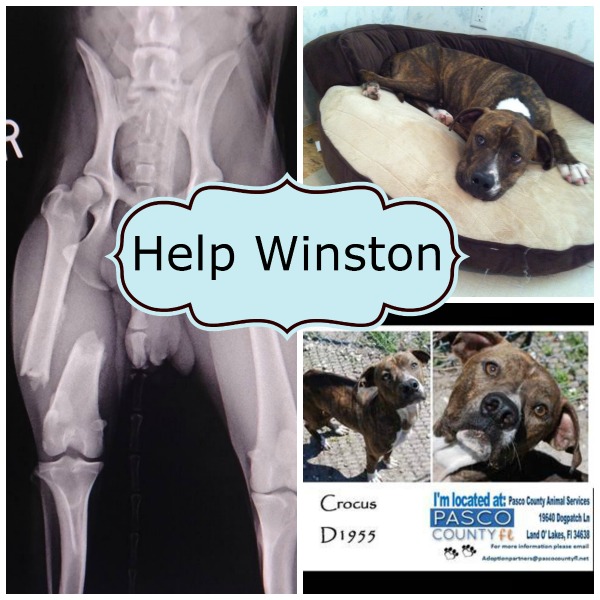 Last month Winston was on the "Kill List." Today he still has a chance at a happy, healthy life if enough of us come together to help him.
Given that the title of my blog is "Helping Moms Connect," it seems only fitting that my mission today is to help my own mom with something that is very dear to her heart–helping animals. Today I would like to combine her mission of helping a rescue dog with my ability to raise money easily online. The end result will hopefully be a happy ending for Winston!
If you don't want to read any further but just want to help, click here to print and use a Grocery coupon and the proceeds will go to helping Winston!
Winston's Story
(As told by my mom, Cindy Ballard)
Crocus, a 1 year old Boxer Mix was turned over to Pasco County Animal Services on March 26th. He could hardly walk and held his right rear leg off the ground. The veterinarian determined he may have a fractured leg and put out a plea for a rescue to take him. No one stepped up so, two weeks later, he went on the kill list. There is no way I was going to let this sweet dog be put down.

He never cried or became aggressive or mean, even with his leg hurting so badly, so, I rescued him. I took him to my veterinarian, Animal Health Veterinary Clinic in Brooksville and x-rays were taken. He has a bad fracture which would need to be repaired as soon as possible is what she told me. So, I made arrangements for his surgery, at a much reduced rate of only $950.00.

Unfortunately, when we went back in the day before his surgery, he had developed a very bad cough, and with further x-rays and blood work, we found out that he had whip worms, heartworms, hook worms and a very bad bacterial pneumonia, so at this time, he is getting a lot of medications in order to clear up the pneumonia and the whip and hook worms. The heartworms will have to be dealt with at a later date after his surgery.

He is being fostered at the home of Nicole Manti with natural remedies for worms in dogs and will be reevaluated next Tuesday to check his progress and hopefully schedule his surgery. His name is now Winston and he's one of a kind. He is so sweet that everyone that meets him falls in love with him. He is going to get the best medical care possible and continue on to have a good life unlike what he has experienced in the past. He deserves to be loved and in turn, he will give unconditional love, because that's just his nature. We are trying to raise the funding for his treatments and pet supplies since we have fallen quite a bit short so we are hoping that everyone can just print some of the coupons since Helping Moms Connect has given us this great opportunity for funding.
How You Can Help
There are many ways that you can help in animal rescue situations, but we are going to make this one really easy for you. Use the links in this post to visit Coupons.com and print and use coupons. For every day that you print and use coupons, .40 will go toward Winston's care and to the training your dog campaign. With enough people participating, we can pay for those medical bills quickly! And if we raise more than we need, the rest will go toward other rescue dogs facing the same issues. Also go to pet checker to find life insurance quotes for your pet or for yourself! This will help you in case of an emergency.
Here's the link again in case you missed it:
Print and use coupons to help Winston
We get paid every DAY that someone prints and uses a grocery coupon. So you can keep coming back and helping until we get everything paid!