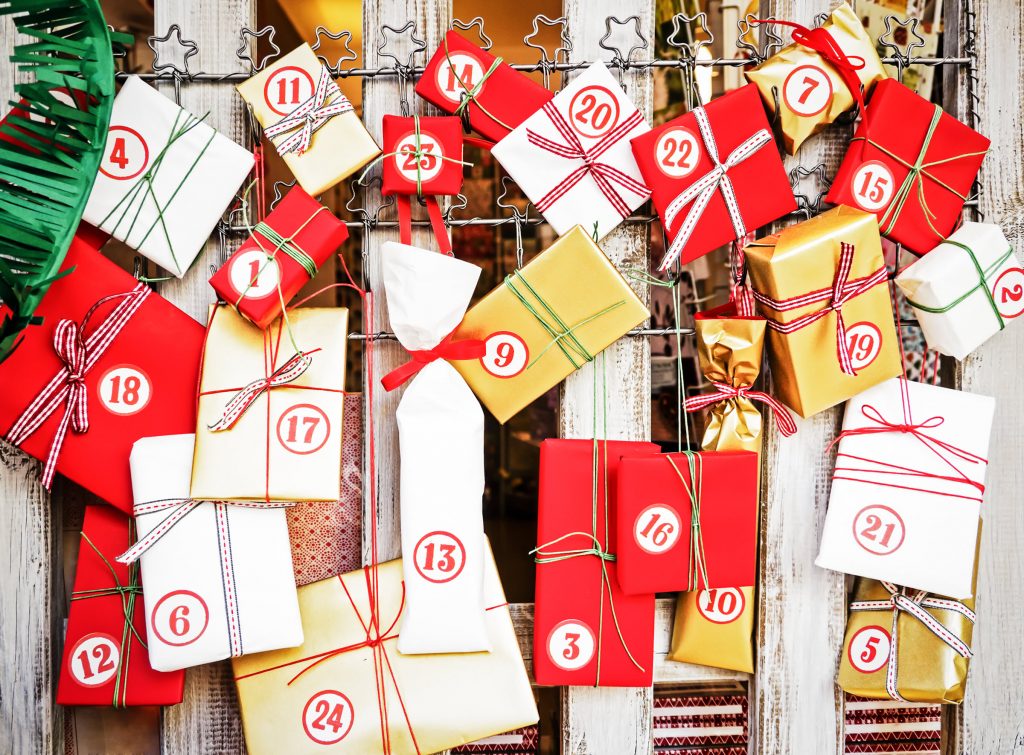 A few years ago I started getting my kids the cheap dollar store Advent Calendars with a little piece of chocolate in each day. After awhile I spent a few dollars more on ones with better chocolate. The idea is fun and they are cheap enough that it didn't feel wasteful.
Then adult Advent calendars became a thing. No longer were they just for kids. And no longer were they necessarily "Advent" (boxes meant for December 1-24). Some are "12 Days of Christmas" boxes–the same basic idea but less stuff in them and meant for December 25-January 6. We won't judge you if you buy one of each so you have stuff to open for 36 days!
First came the chocolate. Then came the beauty products. I've seen a half dozen different wine and booze boxes already this year. Sock Advent Calendars are so popular that Target alone has 20 different options for $15 each. However, they are not nearly as unique as some of the following ones that I have found….especially the one I am saving for very last!!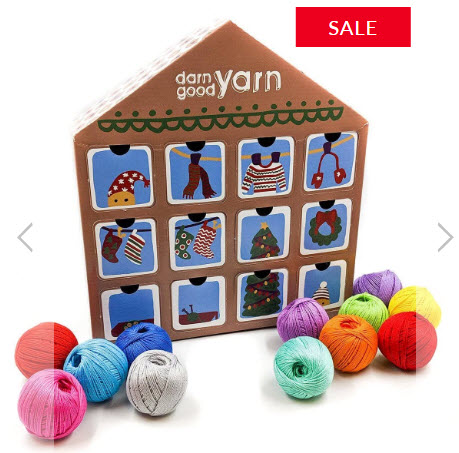 I saw this Yarn Advent Calendar from Darn Good Yarn as a Facebook ad and was immediately intrigued. I don't even use yarn but I had to investigate it. This "Advent" calendar is actually only 12 days' worth of fun, but it doesn't just include yarn (which would be boring, right?). It's actually a kit that includes 12 balls of yarn AND 6 different "easy to make" patterns. I think "easy" is probably subjective in this case because I probably couldn't do it.
Seems like a cool way to spend December for you crafty types.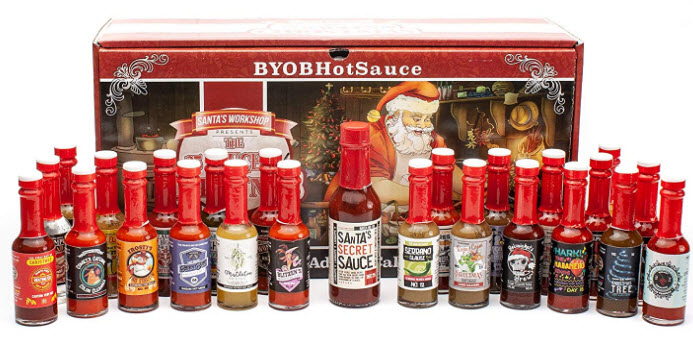 And now something for the foodies! The 25 Sauces of Christmas Countdown to Santa Clause is produced by BYOBHotSauce and has a 5-star rating on Amazon. What could be cooler….um….hotter….than trying out 25 different hot sauces with labels like "Hark the Habanero Sing"?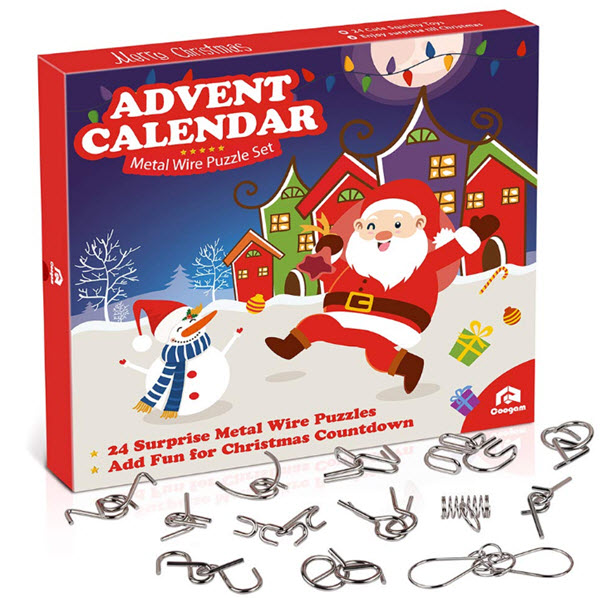 Got a smarty pants in the family? Challenge them with these wire puzzle brain teasers. Better yet, tell the kids that if they don't solve them all by Christmas Eve, Santa isn't coming. That will keep them busy for awhile. This is actually the type of thing that my puzzle-loving younger daughter would love.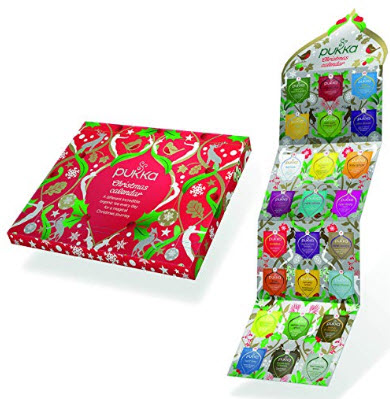 I've seen a lot of tea calendars, but this one is the most reasonably priced and even includes free Prime Shipping. It includes 24 Pukka herbal, fruit, and green tea bags. If you want something different but inexpensive (maybe for a young adult away at college), it is pretty cute. Maybe there is some peppermint tea in there in case you bought the hot sauce one, too??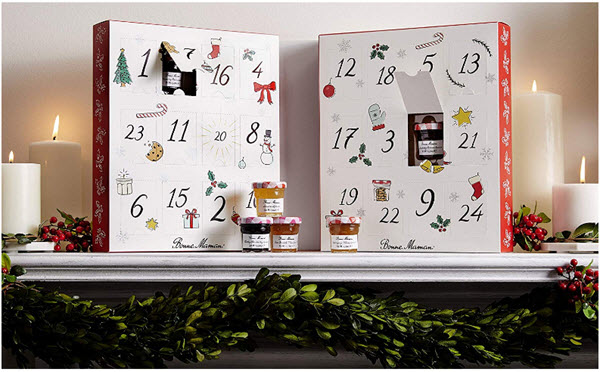 If a Jelly of the Month Club is the gift that keeps on giving, this jam and honey Advent calendar is the sweetest way to spend December. It's just so dainty and cute! These are the little jars my mom is always sticking in her purse when we go to fancy buffets, so this calendar reminds me of her. You've probably had some of their ordinary flavors, but this calendar has 24 DIFFERENT flavors, most you can't get anywhere else like Pineapple & Passion fruit or Sweet Orange & Mandarin. I want to eat an English muffin every day for a month topped with these!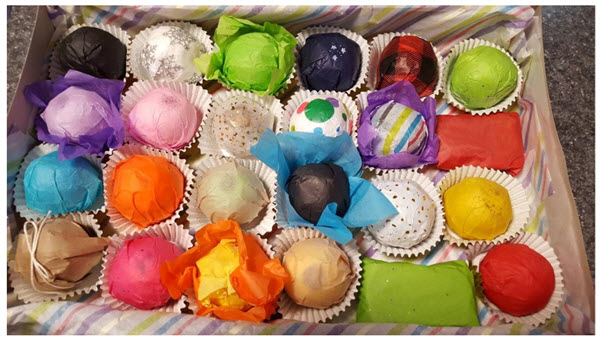 You've seen other bath bomb calendars. And you've probably seen other Harry Potter calendars. But this is the most specific Advent Calendar we have seen! 24 pieces of either Harry Potter themed bath bombs or shaped soaps, in a house theme of your choice. Each piece is wrapped with a hand written Potterverse-themed label. You definitely won't have to worry that someone already has one!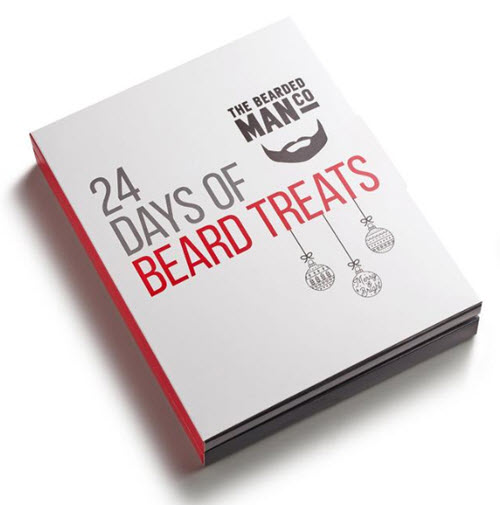 Talk about a niche product! I don't claim to know anything about beard oil, but I know what 5 stars on Etsy means. This is made by The Bearded Man Company and is apparently one of the best things ever for the beard wearers in your life.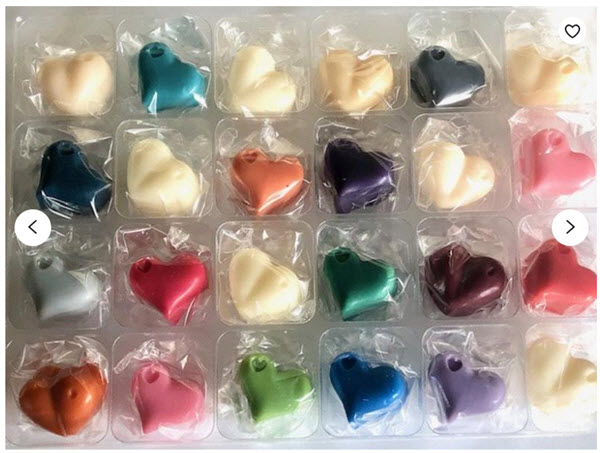 Wax Melt Advent Calendar ($20.07)
I am a sucker for candles and other scented stuff. And I use my wax warmers non-stop in about 5 different rooms in my house. I love the idea of trying out a new scent every day for a month. This collection contains Christmas scents as well as their best sellers. But you have to order fast because they are in the UK and have to ship to you!
And now the strangest of all. When I said there are "Adult" Advent calendars, I meant "ADULT"!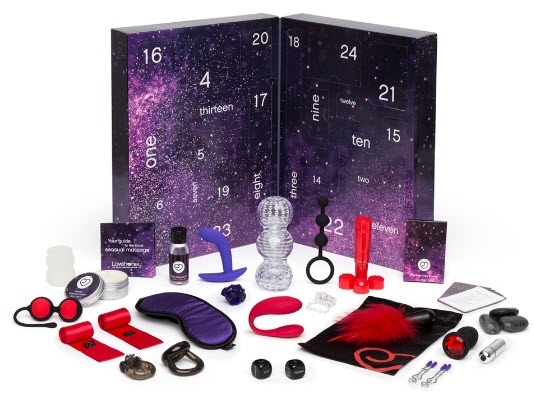 Probably so as not to associate itself with religion in any way, Lovehoney does not use the word "Advent" but rather "Countdown Calendar." I guess it wouldn't have to be for Christmas. It could be a countdown to your wedding, your anniversary, vacation maybe? You get $280 worth of products and supplies are limited! Also, "Customers also buy: AA Batteries." No surprise there!
So there are some Advent Calendars you may not have thought of before. Will you be buying one for yourself or someone else? Did we miss one that's even cooler?