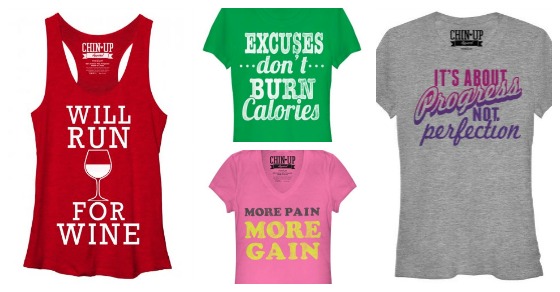 When I first started working out, I wore whatever old t-shirt I could find. After I started taking it more seriously, I started buying actual "workout clothes." My daily wardrobe consists of solid colored shirts (usually a shade of pink or blue) and black or gray tech pants. Pretty much every…single…day.
But I noticed a lot of the Zumba girls starting to wear shirts with cute sayings on them. Cute isn't really the word. More–inspirational. Appropriate to working out and a good reminder of why we were there.
Here are some of my favorites:
Better Sore Than Sorry
When in Doubt, Work It Out
It Doesn't Get Easier, You Get Stronger
Will Exercise for Cupcakes
Fit Is the New Skinny
I was lucky enough to connect with Chin Up Apparel, the maker of a lot of those shirts, and now have some GREAT news for my readers!
First, I'm giving away one of their shirts. You get to choose the style and size from their site from their T-Shirts and Tanks collections. More on that below.
Second, I have an exclusive coupon code! You can save 20% on anything on their site when you use code MOMSSAVE.
Order shirts for yourself or shirts for your friends. Wear them at class or during a team race. It's such a fun way to embrace exercise not just as something that we HAVE to do but as something that we WANT to do. Whether it's running, walking, Zumba, spinning, CrossFit….or whatever you are into! There is a shirt on the Chin Up site that will inspire you to try just a little bit harder the next time that you work out. And if you are like me, you can use all the inspiration you can get!
So I showed you how fun the shirts are…gave you a coupon code to save money on them…all that's left is a chance to win one!