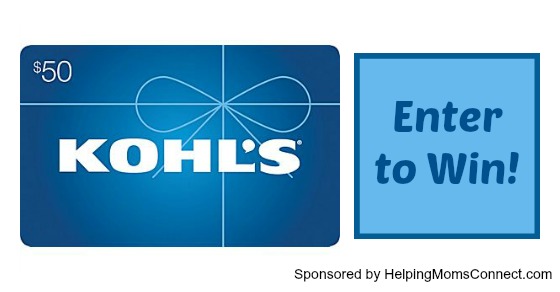 It's Back to School time! At my house that means so many things–buying supplies, new clothes, earlier bedtimes, papers to sign, and checks to write! One of our first stops every year is to buy new clothes and shoes at Kohl's. It's a great place to start because they have a wide range of products at good prices.
This year we ended up with capri pants, shirts, a dress, and a really cool pair of Sketchers that look like Mary Janes but have Memory Foam inside and tread on the bottom. Perfect for my daughter who still likes to run during recess but wants to look a little more dressed up.
Back to school time also means a time when lots of us moms actually have more time to get our work done! That means more posts and time for me to spend on Helping Moms Connect. So I decided to give away a $50 Kohl's gift card! Simple to enter…no strings attached. Just a fun way for me to get back into adding content for you.
Enter using the Rafflecopter below. You don't have to be a mom or even a dad to enter–just someone who wants to shop at Kohl's!
(This contest is not affiliated with Kohl's in any way. Must be a U.S. resident 18 or older to enter. Void where prohibited by law)