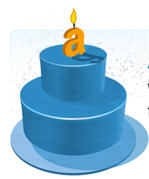 What would you do with a $1000 Amazon Gift Certificate? 5 lucky people are going to find out! AmazonLocal is celebrating its first birthday with a huge giveaway.
Enter from June 1-15, 2012 when you update one Deal Preference in your AmazonLocal account. Entries will be automatic. You can click "Like," "Neutral" or "Dislike" to be counted as an "update."
What would I do if I won the $1000? I would probably add it to my account and first allow everyone in the family to spend $50 on whatever they want. Then I would use the rest of it throughout the year on books, gifts, and mp3s–the 3 things that I spend the most money on on Amazon. Although, I did just order a new backpack and memory cards from Amazon as well this week. The possibilities are pretty much endless!
What would you spend the $1000 on if you won?