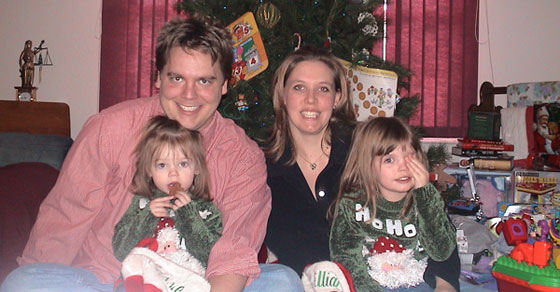 This Christmas is going to be different for me and my family. Not because we'll be spending part of it in a different house or with different family members (although that will certainly be a change!). Not because we'll be seeing more sand than snow. And not because certain Santa secrets are secrets no more (I still cry when I think about that). No, this Christmas is going to be different because *I* am going to be different.
The picture above is Take 1 of 14 from the Christmas of 2004. My photo archives are filled with those kind of pictures. Inevitably one kid is crying or looking the other way. In that one we are bribing Cassie with cookies just to make her sit. I always make the family take and retake and retake all of the holiday pictures until we get one that is just perfect. One year I actually cried the whole way to church on Easter because we still hadn't gotten the "perfect" picture before the service started.
But when I looked back through the 14 takes of those Christmas 2004 pictures, I actually found that I liked the one above the most. It tells the story about what life was like back then. Cassie had a mind of her own. Jillian tried hard to be obedient. Kevin was willing to do whatever I wanted. And I just wanted a picture perfect family.
That's what so many Christmases have been like in my house. I remember when I was a kid my mom telling me that she dreaded Christmas. I was shocked!! How could that be possible? It's the most wonderful time of the year!!
Now that I am a mom, I totally get it. Christmas is full of obligation and keeping up with the neighbors and doing what is expected in the name of "tradition." I'm not going down that road this year. We'll celebrate with some traditions, but not to the point of making everyone in my house crazy. We'll attend some special events, but we won't run ourselves ragged.
Things That Are Going To Be Different This Year
We're not watching every single Christmas DVD that we own. Just because "Yule Be Wigglin'" was popular in the house in 2003 doesn't mean it still needs viewed.
We're not making every single Christmas cookie that we have ever made. We don't need to eat that much. They never all get eaten. We'll each pick our favorites and go with those.
No one is going to match. If the girls don't have coordinating outfits, I'm not going to freak out. As long as they look presentable, Christmas-themed, and not like hobos, I'm going to keep my mouth shut. (I mean…assuming they at least brush their hair…I cannot abide unbrushed hair)
The Elf on the Shelf takes vacation days. Sometimes she likes where she is so much that she just stays there for a bit. That's why she has been eating the same bowl of cereal since Saturday.
The kids will not be getting every single thing they asked for. They gave me an initial list and it seemed small. So I told them to think of absolutely anything else that they wanted. And they did. Not the best idea on my part.
I'm not working every single day. December is a great time for making money when you are in ecommerce but really as the month goes on, the returns compared to time always go down for me. So why beat myself up over the work? I need to remember what is just "busy work" and what is actually financially productive.
Not everything has to be the same every year. If my sister wants to make enchiladas for Christmas Eve, I'll just be thankful I am not the one cooking! (as long as we do get a little ham somewhere along the line)
Every inch of my house if not decked with boughs of holly. We have a tree, outside lights, and some odds and ends inside. It's nice but doesn't exactly look like Macy's.
Pictures are for capturing what life is really like, not what I wish it were like. If everyone isn't centered perfectly in front of a tree, it will not in any way diminish the memories of the events and the time that we spent together.
In my house, all of this starts and ends with me. I know that when I am more relaxed and enjoying myself, everyone in my family is. For all of you out there still buying matching dresses and enjoying the Elf moving every day, that's totally okay! As long as you and your family are getting enjoyment out of those things that makes it worth the effort.
Do you find yourself worrying so much every year about the minutiae of the holidays that you end up not appreciating it like you should? Are others outside of your family getting more of the benefits of your time than your own family? What can you do differently this year to turn that around?
(P.S. Here's Take 14 of the family photo. It may be great for a Christmas card but in retrospect, I would not remember a thing about that moment)