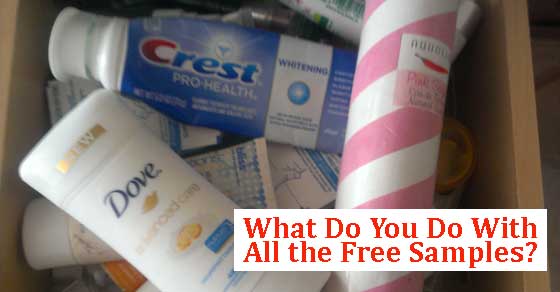 I'm fortunate to receive a lot of different free samples in the mail. Some of them come as review items as part of my job (affiliate marketing). Others come from sites like BzzAgent and Influenster. As I looked through the mountains of stuff in my bathroom, I got to thinking about the samples that I get in the mail and I wonder how other people treat them.
Do You Ever Buy the Products?
How often do you end up buying products as a result of samples that you have been given? I found a few really important ones as I was digging through my drawers. I was never a brand loyalist of toothpaste until my dentist gave me a sample of Crest Pro-Health and said it would help with my gingivitis. I switched and never had gum bleeding again. That one is a keeper. I am allergic to a lot of perfumes so when I tried a sample of Aquolina's Pink Sugar that came in a Sephora box, I knew it would become my signature scent. Aside from body sprays, I've never worn another perfume in 5+ years. Recently I was given a sample of Dove Advanced Care deodorant. Before that I had always switched back and forth between Suave and Secret and was afraid to try anything else. I was so blown away by the Dove that I bought 2 more already.
Those are definitely the exception. I think I am most often to try a product beyond the free sample of the sample comes with a decent coupon. If between the sample and the coupon I am not convinced in the product, I probably will not try it again. Sometimes I will find that I really like the product but not enough to pay full price for it, so I will only buy it again when I see that it is on sale.
Do You Give Away the Products?
Sometimes I am happy to let other people in my house try things that are sent to me (especially if multiple are sent), but for the most part I keep them to try myself because I am the one who makes most of the purchasing decisions anyway. If something is specifically sent for my husband or kids to try because of their demographic, I give it to them. Otherwise, I keep them all for myself!
In a case like BzzAgent where they send me multiple samples to share with other people, I will. But I have to admit that otherwise I don't tend to share them. I figure if other people want to try things for free, they can sign up themselves.
Do You Tell Others About the Samples?
I tend to share my opinions more online than in person just because I try so many different things in a week. But I do have to say that if I get something in the mail that I absolutely love, I am likely to tell my friends and family about it. I'm more likely to post about it on Facebook or Twitter (or write a full blog post if I am REALLY inspired).
Is it Worth Collecting Samples?
We get things in the mail almost every week and it makes my family laugh. Most of them are single servings or trial sizes. I'm on so many different lists that sometimes I have to research where things even came from. It can be a pain to make sure that I give feedback every time that I am supposed to, take pictures when it is required, etc. to get all of the samples that I get. But to me it is fun. I love trying new products. I love saving money. So for me, it's definitely worth going out of my way to get samples and evaluate them and spread the word when I enjoy them.
Are you the type of person who collects a lot of free samples and then tells people what you think about them? What are your favorite sources for getting them?