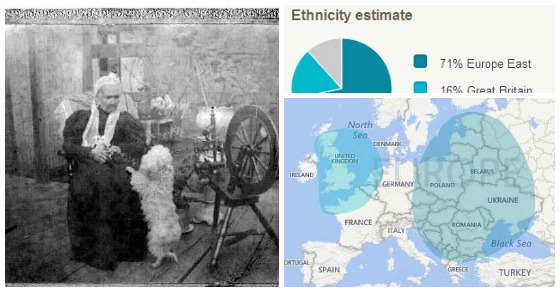 I've grown up thinking of myself as basically Irish. My grandmother's maiden name was Emma Lou O'Malley, which is as Irish as you can get. We celebrate St. Patrick's Day with gusto every year, claiming our "heritage."
In the last couple of years I got an Ancestry.com membership and started building my family tree. Being raised by mainly my mom and not knowing my dad's family, I didn't really have a lot of "ethnic" traditions growing up besides wearing the occasional Claddagh ring and enjoying Shepherd's Pie. I can sing "Harrigan" and "Too-Ra-Loo-Ra-Loo-Ral." I expected to chart my family tree and find that most of my family members were from Ireland. I was even making plans to figure out WHERE in Ireland they were all from so that I could visit them!
Except it turns out that I am not actually very Irish.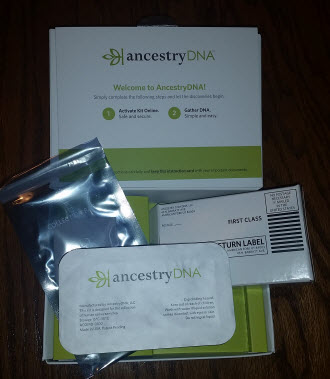 Last month after hearing how excited Eric Nagel was about taking the AncestryDNA test as well as hearing his wife's experience with it, I decided that I wanted to take it myself. I was lucky enough to find some kind of coupon for money off or free shipping or something, so it was a little less than the $110-ish it normally is to get it done. I wanted to take the test and have it connect me to everyone in Ireland so I could email them and ask them where I should visit.
I was also anxious to find out what the REST of me is that isn't Irish. Based on my tree so far and family stories, I was thinking it was part Austrian. Even that is kind of confusing because some people said my family came from Croatia. Others said Austria. Others said Yugoslavia. More on that later!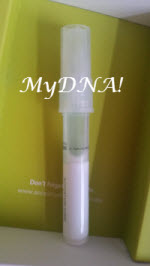 I ordered my kit on March 15 and it shipped the next day. By March 24 I had the kit in my hands and wanted to take the test immediately. I was nervous because I didn't want to mess it up, but it only took about 5 minutes. You basically spit in a tube (which was hard for me because spit makes me gag) and then you dump in a little solution that helps preserve the DNA. You stick it in the mailbox and wait for an email that tells you your results are ready.
Ancestry emailed me a few days later to tell me that they had received my DNA and it would take 4-6 weeks to process. That was early April. I checked back on the site about twice a week and was excited to see that it only took 2 weeks to process! I saw the results in my account before I even got the email (I may have been checking a little too often!)
Excitement and Confusion Over Results
I was so excited to click on the button and find my Ethnicity Estimate and see if anyone else in the system matched my DNA. Here's what I saw:

Wait…I'm 71% "Europe East"? Where's my Irish Blood? 
When I clicked on the full results, I found out that I am actually less than 1% Irish! I'm 71% Europe East, 16% Great Britain, and then various "mutt" including Italy, Greece, Iberian Peninsula, Europe West, Scandinavia, and Ireland.
Is 71% Europe East a lot? You bet it is. The typical person native to that area is only 82% pure Europe East. That means that even though my parents AND grandparents were born in the United States, I have so much Eastern European blood in me that I almost could have been born there.
So What Does it All Mean? 
As I have been making my way through the results and connecting with the trees of the 17 other Ancestry.com members who share my DNA, I have come to find out that 3 of my 4 grandparents were descendants of an area that throughout the last 150 years has alternately been called Croatia, Austria, Hungary, Poland, and Yugoslavia. I've had to learn about the history of the region to understand why someone said on their immigration papers that they were from Austria but said on their draft card 30 years later that they are from Yugoslavia.
It's probably a good thing that I love Polka music and Pierogies because it turns out that those are really in my DNA…not much corned beef and cabbage.
I won't be giving up celebrating St. Patrick's Day or even calling myself "part Irish" as a result of this DNA test. My next plan is to order DNA tests for both my mom and my grandma. By having each of them tested and linked to my account, I will essentially be able to "split the tree" and figure out which of the DNA matches are from my mom's side versus my dad's side and from my mom's paternal side versus my mom's paternal side. I'm guessing that my maternal grandmother is Irish mixed with Great Britain.
There is so much more information on the Ancestry DNA website that explains how it all works, why you should test as many people in your family as possible, etc. I'm obsessed with it all now–both the DNA and the continued building of my family tree. I want to visit the cemeteries of my great-grandparents in Pittsburgh and find out what ship my great-great-grandparents came over on. I want to find as many of their stories as I can piece together.
Does all of this in the past matter when there is so much to look forward to in the future? I like to think so, whether it is the stories we hand down from generation to generation as anecdotes or the ones that we research based on fact. All of our stories matter.
Have you had your DNA tested for ancestry purposes or built a family tree? Were there any surprising results?