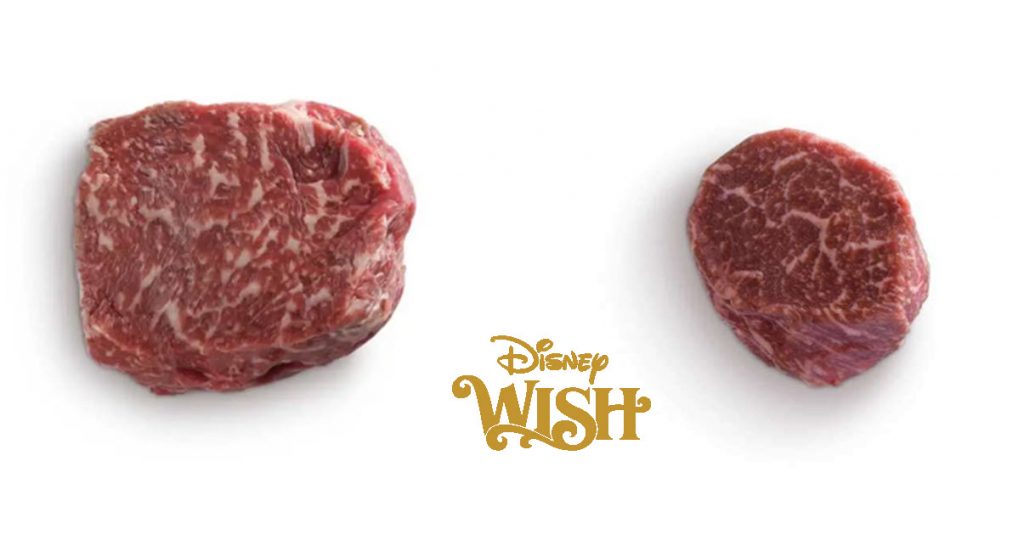 I've been looking forward to the Disney Wish since the day that it was announced. In fact, my family switched our 7-day Fantasy cruise to a 3 and 4 day Back-to-Back on the day that Disney opened bookings on the Wish. The result was that I would be watching for every scrap of information about the Wish for almost 18 months!
Although we don't cruise for another month, I'm already looking at menus. Crazy, right? I can't help myself. I'm one of those people that enjoys the planning of Disney cruises almost as much as the destination.
Looking at the newly released Palo menu, I was surprised to see a familiar name–Snake River Farms. I've been an affiliate of SRF for years and have had their meat many times.
I checked other Palo menus on other Disney cruise ships and did not see Snake River on the menus. I'm not sure whether this new steak selection is going to be for the Wish only or rolled out to other ships.
The steaks are a part of the Palo Steakhouse a la carte Dinner Menu, not the Brunch or the Dinner Prix Fixe. The two steaks listed are a 6oz Snake River Black Wagyu Strip Loin and a 6oz Snake River Black Wagyu Tenderloin.
If you look at the Snake River Farms website, you will see that "Black Wagyu" refers to the grade of steak (Black versus Gold). Their beef is "American Wagyu" as its a specific breed of Japanese Wagyu with American Cattle.
If you want to make it at home, you can order many different Snake River Black cuts online. They have everything from filet mignon to ribeye to New York strip to sirloin. In addition, they have a lot of tips on their website how specifically to cook Wagyu beef to make sure that you make the most of the high quality beef.
I'll report back after our cruise with my opinion about Palo and the food on the Disney Wish in general!