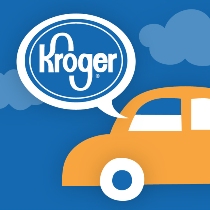 If you read my blog, you know that I am an avid Kroger shopper. I buy pretty much everything that I can there, taking advantage of their weekly deals, their online coupons, and other coupons that I find online. In addition, I buy a lot of gift cards there. Because of all of those purchases, I end up with a lot of Kroger Fuel points. I save $1 on every single gallon of gas that I purchase. In fact, I won't even get gas anywhere except for Kroger! I have to drive out of my way by a few miles, but it is worth it.
As a part of the "Fueling Your Summer" campaign, you can get double the fuel points this summer when you 1) load a special coupon to your Kroger card, and 2) shop Friday through Sunday.
With the rising cost of gas, saving money at the pump can really add up. For example, I always have enough points to save $1 a gallon for both my fill-ups and my husbands. Assuming that we each use about 15 gallons of gas a week, that is $30 a week in savings or $120 a month in savings. How can you pass that up? The key is to make sure that you use as many opportunities as you can to save up points.
We travel from Indiana across Ohio to Pennsylvania frequently (both for work and for fun). We've learned how to fuel up in Indianapolis before we leave and then again in Columbus at the Kroger closest to Hwy 70. Then we travel on to Pittsburgh and fuel back up in Columbus on our way home. It works out perfectly. Without the fuel points and savings, we would be spending so much more on gas.
Kroger was nice enough to offer me a $100 Kroger gift card to give away to one of my readers (that you can use for either groceries or gas) and I get to keep one for myself! So it's a win for both of us.  Entering is simple, and I would love to hear about what types of trips you are planning this summer that fuel savings would help out for. Leave your comment and complete the Rafflecopter below to get entered. The contest ends July 22 at midnight Eastern.