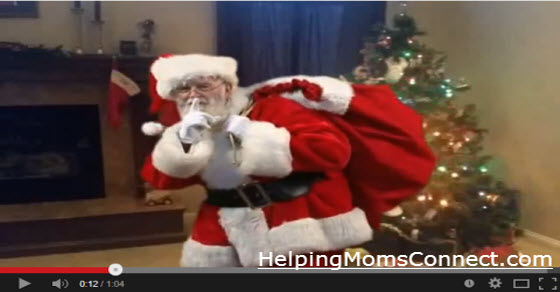 A couple of years ago one of my daughters (who was about 8 at the time) started expressing some doubt over the existence of Santa Clause. Naturally my husband and I were in a panic because we didn't know what to do. It was pretty clear that she was still wanting to believe, so we wanted to help her with that.
With a little bit of "magic," we were able to show her a picture on Christmas morning of Santa Claus eating cookies in our kitchen. When viewed on a cell phone (which I had conveniently left sitting out the night before in the event that any of Santa's Elves wanted to use it), it absolutely looked like Santa in our very own kitchen! In fact, my older daughter was completely confused and wondered if we had hired a Santa to come into the house!
Fast forward a couple of years and technology is even better. Now you can not only get a picture of Santa in your house but even a video! There are a couple of sites that do it, but I am lucky to be working with The Santa Video. They are family owned and operated and a great way to either "prove" that Santa came to your house or just have a little fun with the family.
You can either stream or download your video. To make the video the only thing you need is a picture uploaded to their site. Then you choose your Santa and any music you want added. You can preview it before you buy. It truly is magic the way that they make it look real!
Want to save a little on your Santa Video? Use our Santa Video coupon (SANTASAVER) and you will get $4 off!
We have a couple of codes to give away for people to try it out. Simply enter using the Rafflecopter below. The turnaround time is really fast because Christmas is coming soon, so enter now!
You can check out my video below, head to Santa Video to make your own (using our coupon!), enter the contest…or all three!