Normally I will do whatever I can to keep from drawing attention to my braces. Today when I went in for an adjustment at Sadler Orthodontics they told me they were starting a contest for Breast Cancer Awareness Month and to get entered all I had to do was agree to put pink rubber bands across all of my lower braces.
My immediate thought was "no way." I always have a combination of clear and silver bands put in to make them blend in with the braces as much as possible. I glanced over at those pink rubber bands and couldn't imagine having those in my mouth for a month. Especially with a trip to Pittsburgh and an affiliate marketing conference (ShareASale Think Tank) coming up! People always joke with me about whether I will get colored braces for different holiday. I have said NO!
Then I thought about it a minute more. I'm one of those people who is always asking people to give money for Breast Cancer Awareness. We do an entire Breast Cancer Awareness shopping page on Sunshine Rewards. I even did the 40 mile Avon Breast Cancer walk last year to raise funds and awareness.
I need to walk the walk and not just talk to the talk. Too many women in my life have been impacted by breast cancer–friends, family, neighbors, co-workers. It's a cause worth continuing to talk about.
So I said yes. I don't even care what the potential prize is. That's not what it's about. It's about making a statement and doing something I wouldn't normally do in an effort to educate others.
Here they are…my pink braces. They aren't neon or anything like that, but they definitely stand out when you see them in person. It's not like I was hiding the braces anyway. And on the plus side, I do wear a lot of pink! If you were not already thinking about October being Breast Cancer Awareness month, I hope that you will be now.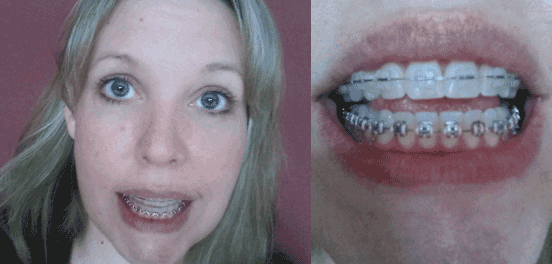 You can read more about my adventures with braces here: