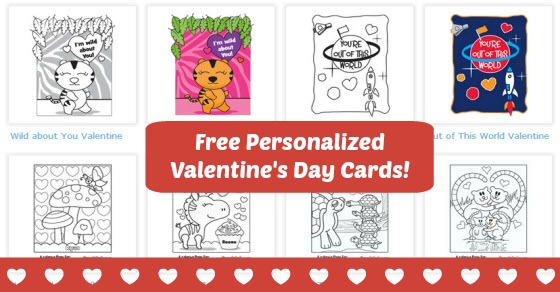 I fell in love with Frecklebox a couple of months ago when I was shopping for Christmas gifts for my nieces. They absolutely loved the personalized coloring books that I sent them!
This month Frecklebox is offering free coloring pages and cards for Valentine's Day. You simply pick the design you want, enter the child's name, and then print them. I remember a lot of years of trying to figure out what to do at school Valentine's Day parties. Imagine printing off a personalized coloring page for every kid in the class to color and take home to their parents.
Or choose from the personalized cards. Print the sheets out, have your child color them, and then fold them into quarters to create the cards. There are choices that are are geared more toward girls, boys, or either.
They have 9 different Valentine's Day designs plus a couple of general winter ones (I like the one where you get to make your own snowman). Also be sure to check out the rest on the page if you are just looking for personalized printing pages in general.
I know that some of you bloggers also offer free printables on your sites. If you have free Valentine's Day printables, drop a link in the comments!