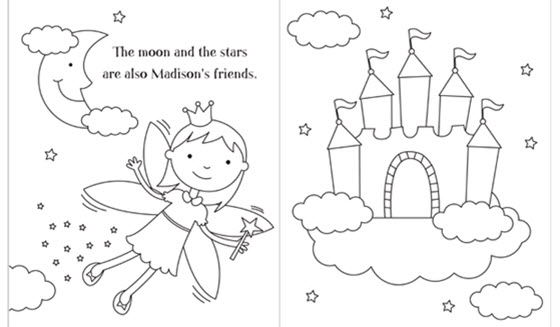 My daughters have names that are not exactly unique but are also not popular enough that we tend to find merchandise in stores with their names on them. Because of that, I am always on the lookout for things online that I can order. Recently I was introduced to Frecklebox. They specialize in personalized gifts for babies, kids, and tweens.
One of the things that I found and immediately loved for my nieces (who also all have unique names!) was the the section of coloring books and activity books. They have them for both boys and girls in many different themes including holidays, princes, pirates, dinosaurs, and pets.
You can actually see the entire coloring book before you buy it. In fact, you can put in a name and preview every single page. This is great so you know exactly what the final book should look like.
Talk about a perfect gift idea! Personalize a coloring book or two and then add some crayons, markers, or colored pencils to complete it. I'm choosing different books for each of my nieces that match their specific personalities. I'm also considering adding a set of the personalized stickers to get me to the free shipping minimum.
If you have kids with unique names or just went to personalize gifts to make them feel special, check out the Personalized Coloring Books as well as all of the other great personalized items at Frecklebox.