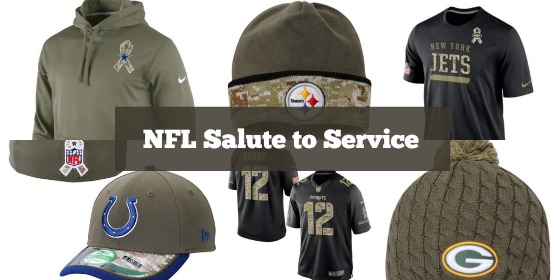 When I was watching football on Sunday I kept seeing players and coaches wearing NFL gear that looked like it was camouflage. I was really confused…wondering if it was some kind of hunting season motif.
Turns out that it was for NFL Salute to Service Month. For every point scored during the NFL's 32 designated Salute to Service games, the league will donate $100 to each of its three core, military non-profit partners: USO, Pat Tillman Foundation, and Wounded Warrior Project.
I was glad to see my Steelers participating!
Speaking of the Steelers, I have to give props to the Colts players. When I was in Pittsburgh for the Colts/Steelers game last week they had a special recognition during one of the timeouts of a Steelers fan who was serving in the Marines. Of course all of the Steelers fans were waving their Terrible Towels and cheering for him like he was one of the players. But what I was really impressed by was seeing the Colts players that were out on the field in the middle of a game that they were losing, stop to recognize the other team's fan and cheer right along with the crowd. Great sportsmanship and great patriotism.
In addition to what is being donated through the games and various other recognition events, the NFL is selling Salute to Service merchandise like the hats and shirts I saw on the sidelines during the game. Fanatics has a great selection of all of the teams.
Prices start at $20.99 for the beanies and go up from there to include hats, gloves, and even some special jerseys.
It's an interesting campaign and I am glad that I took the time to look it up. You can visit the Salute to Service website for more information.