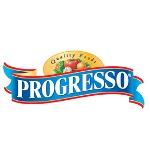 A few weeks ago I was doing my weekly grocery shopping and stopped in the soup aisle to pick up some lunch for myself. Working from home, I often eat by myself at my desk and like things that are quick but healthy. For years (since I was on Weight Watchers) I have eaten the various light Progresso soups.
I was excited to see two new soups in the lineup: Creamy Potato with Bacon & Cheese and Chicken Pot Pie Style. I love a hearty soup and at less than 100 calories per serving (2 Weight Watchers PointsPlus), I had a feeling that these would soon become my favorites. I was right! I've been eating them every week for the last few weeks and they have overtaken my previous favorites.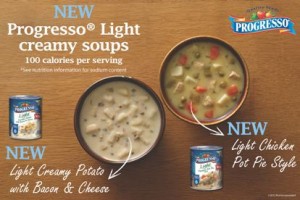 What's so great about these soups? First, they do not taste like "diet" food. You know how often you see soups with low calorie counts but they do not fill you up? These soups do fill me up. I usually pair them with yogurt, some fruit, and maybe half a sandwich if I have time to make one. I admit that sometimes I eat both servings if I am in a hurry and not having anything with the soup. Even at 200 calories for a really big bowl, I still don't feel guilty. The second great thing that I love is that they do not taste like your typical canned soup. They actually have nice sized chunks of chicken, bacon, potatoes, etc. You don't always get that with a canned soup.
Want to try the new Progresso light creamy soups yourself and save a little money? Download a printable coupon for $1.25 off 4 cans.
When MyBlogSpark emailed me with the chance to review the soups AND give away a prize pack to my readers, I jumped on it. I got a free can of each plus some other goodies (a soup mug, a lunch tote, and a water bottle). Check it out below and keep reading to see how you can win an identical prize box yourself: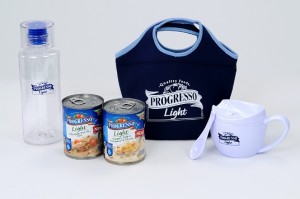 To enter:
1) Leave a comment below telling which soup you would like to try and why (one entry).
2) Post on Twitter about the contest and leave a comment below with your Tweet (one entry).
3) Sign up for our newsletter at the top of the page and leave a comment below (e-mail will be verified) (one entry).
4) Blog about this contest or post the contest in your giveaway section and leave your link to the post below (two entries).
Drawing will take place October 23, 2012, at noon Eastern. Must be a US Resident, age 18 or older to enter. Winner will be notified via e-mail and have 24 hours to respond or a new winner will be selected.
"Disclosure: The gift card, information, and additional sample have been provided by Progresso® through MyBlogSpark."