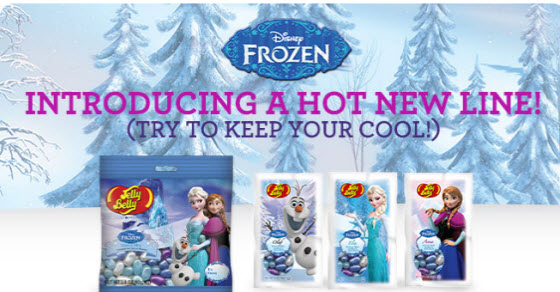 If you have Frozen fans in your house like I do, you know that they want pretty much every thing that they can get with Frozen characters on it. These new officially licensed Frozen candies from Jelly Belly would be perfect as party favors or even to add to gift bags.
The jelly beans come packaged in a couple of ways. You can get the 2.8oz bags that contain "Icicle Mix" jelly beans and have Elsa, Anna, and Olaf on the outside. (Icicle Mix is Sparkling Berry Blue, Sparkling Blueberry, Sparkling Cream Soda, and Sparkling Grape Soda). You can also get 1 oz bags that have the same mix of beans but have the characters individually on the front. These are available online in 3 packs as well as 24 count cases. (You save about 13 cents per bag when you buy the case)
Ordering in bulk is best because you can get free shipping on orders of $55 or more. The current promotion of the Frozen Jelly Beans is slated to end August 8, so I'm not sure if they are a limited time special or if that will be extended.
You can look for Jelly Belly Coupons and cash back at Sunshine Rewards.