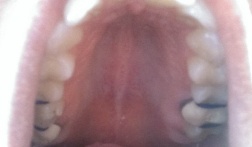 I write about a lot of personal topics on this blog, but for some reason this seems more personal than most. It's embarrassing and yet pretty normal for a lot of people my age.
All my life I have hated my teeth. No one ever understands it because they say I have a "big, beautiful" smile. They may look fine from a distance, but close up they are crowded. And I have an overbite. Every year they get worse and worse. For awhile it only bothered me a little bit but in the last few years it started bothering me to the point that I couldn't even look at pictures of myself.
After my daughter went through the first stage of her braces, I made the decision that I would get them myself. But months (and then years) passed and they just seemed like a luxury we couldn't afford. Finally after complaining and complaining (and seeing my daughter start her second phase), I decided to take the plunge. My husband (and his insurance) were very supportive. Yet I can't help feeling a little guilty that my vanity is taking the cost of a family vacation away from my family.
So here it all is. I'm 37 and I am getting braces.
Getting Spacers
The picture above is from my first week of treatment. Last Thursday I had spacers inserted between my upper molars. This is in preparation for an expansion device to make some room (rather than having teeth removed). They told me that the spacers would hurt for a day or two.
On Day 2, I started Googling "How long will spacers hurt?"
I'm on my 5th day and still can't chew anything harder than a strawberry. I'm not sure if it is because they had to work around a couple of old crowns or that my teeth are just stubborn. Everything I have found online says it is fairly normal for adults, so I am not too worried. Cranky. But not worried.
Next Steps
This Thursday I go in to have those spacers removed and have metal bands fitted in their place. I will also have an impression done for the expansion device to be made. The following Thursday, they will put in the expansion device for 4-6 weeks, and my husband will have to crank it for me. I have a feeling that if I am complaining about spacers, I will really be complaining about that!
Sign up for my newsletter or come back to the site to watch my progress over the next two years. I'll be honest about everything and answer your questions to the best of my ability. I promise not to complain too much!