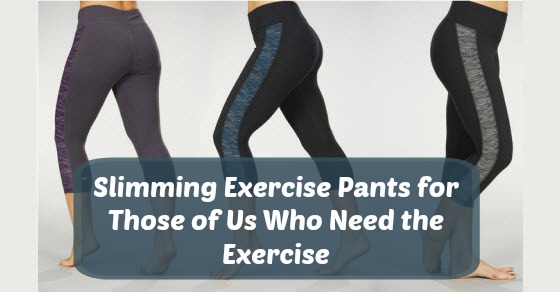 There is a certain irony in going shopping for workout clothes when you are not a size small or medium. You really need the clothes because you NEED to work out. But most of them are either not made big enough for you or are big enough but make you feel so fat you don't want to step foot in a gym. I've tried everything from baggy shirts to yoga pants to "wicking" wear. It's hard to feel good about exercising when you don't feel like you look good (especially when you are in a room full of skinny people who don't look like they need as much exercise as you do!).
I discovered Marika Magic totally by accident. I was searching online for everything from "exercise clothes for fat girls" to "plus size workout pants." I was desperate. I didn't want to have to wear SPANX under my Zumba clothes but at the same time wanted to find something with a little more support that would look better than yoga pants on my plus-sized rear end.
Marika really is kind of like magic and i even use them on my laser beds and tables sessions. I like the capri length pants for Zumba because I bend over a lot but also get too hot for full-length pants. But they also make slimming shirts, long pants, bras, and more. I feel like they are holding me in and supporting me during my workout and helping smooth over some of the roundness. And I get compliments on them to the point of making me want to wear them all the time!
I get a LOT of wear out of them and they are not wearing out. I probably wash each pair twice a week and have one pair that I have owned almost a year. The other pair is maybe 4 months old. Both are still in great shape, which is more than I can say for most of my workout clothes.
The only down side is that they are pricey. I only buy them when I see them on sale. They run various sales on their site depending on the day and I look for Marika coupons to post when I can find them.
The VERY best deal you will find is when they run them on Groupon. Today they have limited quantities of the Slimming Leggings for only $18.99, which is a bargain! The black are actually already sold out in L and XL, but they have 2 other colors. They also have the Tummy-Control Leggings with Zip and the Tummy-Control Pants (of which I have both black and gray!).
If you are self-conscious about how you look in your workout pants, I really encourage you to try out the Marika Magic line. When you feel confident while you work out, you are more likely to give the workout 100% and not be worried about who sees your panty lines and whether your tummy is pooching out!