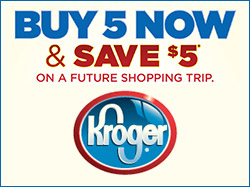 If you read my blog much, you know that I am an avid Kroger shopper. I do my weekly shopping there on Sunday, I buy gift cards for my business at least one weekday each week, I hit the salad bar at least once a week, and they are the first place I head to for the "one off" items I need. I go to Kroger so much that my phone actually told me one day that I had "6 minutes to get to work" and the location that they listed as my employer was Kroger! I even get all of my gas at Kroger using my Kroger Plus Card points.
So I know a lot about the different types of sales that they run and tend to watch for certain ones. From June 2-8th they will be running their "Buy 5 Now and Save $5 Later" event (at least that's what I call it). During this week you simply need to buy 5 participating items from brands like Pillsbury, Totino's, Chex Mix, and Yoplait and you will get a coupon for $5 off your next visit. For me this is super easy because we eat Pillsbury breadsticks once a week, Totino's pizza every Thursday night, and a slew of Yoplait yogurt between the 4 of us.

The other day (ironically) when I returned from Kroger, I had a box waiting for me from MyBlogSpark. It was a $25 Kroger gift card for me and a certificate to give one away to one of my readers. I'm going to make this one really easy since I want as many people to be able to enter as possible.
Would you like to win a $25 Kroger gift card? If so, you can get entered below. Let's share ideas about how we save money at Kroger. Here are a few of mine:
Using my Kroger Plus Card to add coupons online
Clipping coupons from the mailings I get from them
Special in-store events like 10 for 10 and the new Buy 5, save $5
Buying gas using Kroger Plus Card points
Contest ends June 5.
Disclosure: "The information and prize pack have been provided by General Mills through MyBlogSpark."