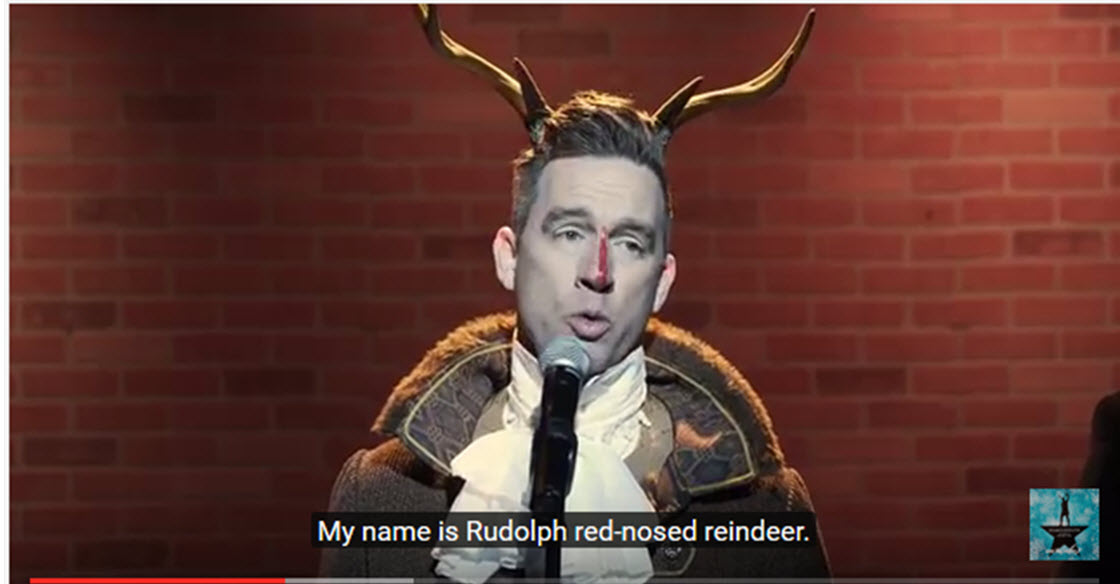 A guest post from my daughter, Cassie. She might be the biggest Hamilton fan in the house (MIGHT). Keep in mind this whole song is done a cappella! Watch the video and then read below to see what you might have missed. 
(If you want to buy the song, you can get it on Amazon for 99 cents. )
This video, by Eclipse 6, is a parody of some of the songs from the Broadway musical Hamilton. I am in love with Hamilton and am always trying to find things inspired by it. The creative name, "Hamildolph," gives you a glimpse of how original this video is. It mixes Hamilton with the tale about Rudolph the Red-Nosed Reindeer in a fun, interesting way. Check the list of things below that connect the two tales and look out for them:
Rudolph is played as Alexander Hamilton, being the misfit of the area

Santa Claus is George Washington, being the leader of the area

The first song is a parody of the theme "Alexander Hamilton," in which we meet our misfit character and introduce his story

The second song is a parody of the theme "Right Hand Man," in which our leader is in a crisis and needs help from our misfit (and "not throwing away his shot")

The word "Burr" is said in both songs for different reasons. In "Right Hand Man" there is Aaron Burr. However in "Hamildolph" the word "Brrrrr" is stated as in freezing
I hope you enjoyed this video as much as I did!