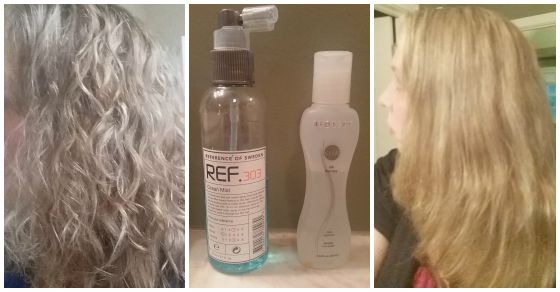 When I was a teenager, I had poker straight hair and wanted it curly so badly that my mom permed it until I looked like a poodle. After I had kids, it developed its own curl and I wanted it straight so badly that I started flat-ironing it until it became dull looking.
People are always surprised now when they see my hair curly because I straighten it so much. The curls just always seemed so difficult to tame compared to using the flat iron. And yet the flat iron takes forever and heats up my bathroom.
I've come to learn that the products I use in my hair have a HUGE impact on how my hair looks. Almost more than the tools that I use. I like to experiment with everything from Suave Dry Shampoo to CurlFriends Gel to John Frieda Frizz Ease.
As you can see from the pictures above, my hair can go from curly to straight based only on the products I use. I used nothing but product, a brush, and a hair dryer in both of the pictures. For the curly hair I used REF. 303 Ocean Mist. For the straight look I used Biosilk Silk Therapy. I have other products that do the exact same things. These were just the two I happened to use on the days I took the pictures.
I could definitely have touched up the curls with a curling iron or made the straight hair even straighter with a flat iron. But who wants to have to use those every single day? If I can spend 10 minutes with a little product and the blow dryer, I'm happy. If I'm going somewhere special, having pictures, or just want it to look nicer, I can always spend that extra 15-20 minutes with various irons or curlers.
So I guess the bottom line I want you to know is that if you think you just have "bad hair" or it doesn't do what you want it to do, you might not be using the right products. It doesn't mean having to spend a lot of money on them. Rather, it means getting good advice and experimenting with how different things work on your hair. Figure out the look you want, Google it, and find out how you can save time and still look great.
Now excuse me while I revert to my ponytail for my workout!