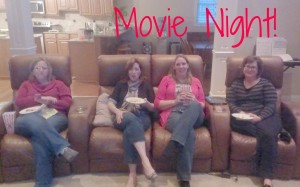 Some time late last year I saw a list of books being made into movies for release in 2014 and I grabbed a few on the list to read. One of those was Labor Day. I really liked the book and looked forward to seeing the movie but just never got around to it while it was in the theater.
Lucky for me, Influenster and Paramount Movies gave me the opportunity to host a movie party for my friends to celebrate the digital release of the movie this week. They provided me with a free digital copy of the movie and the suggestion of serving peach pie (we'll get to that later). So 4 gal pals and I met up last night to view the movie and have some girl time.
Movie Review
I already knew pretty much what to expect of the story from reading the book, but my friends did not. The movie stayed pretty true to the book from what I remember with few exceptions. The story revolves around a woman and her son who are taken hostage (sort of) by an escaped convict. The resulting "family" that the 3 of them become is at the heart of the movie.
A couple of my friends remarked that it reminded them of "Bridges of Madison County" in some ways. I can't comment because I have never seen that one. It was definitely a "quiet" movie where you had to pay attention to dialog and flashbacks. The romance was not heavy on the physical but more the emotional. Everyone said that they liked it although we agreed that it was better that we watched with our girlfriends than with our husbands.
Peach Pie
One of the suggestions for my movie party was to bake the same peach pie recipe that was in the movie. I didn't have time for that, so I just bought one. I've never served pie at a girls night before , but it ended up being a big hit! It was funny because a few of us ate it as the movie was starting. As soon as the pie scene was over (which reminded some of them of the pottery scene from "Ghost"), the other ladies immediately jumped up to get theirs! So apparently it's a good idea to have some on hand when you watch the movie. It was a nice addition to our popcorn and normal snacks (and wine!).
Movie Party
I've never had a group of friends over like this just to watch a movie but I have to say that it was a lot of fun. It was easy to prepare for because I just made up some easy snacks (we started late in the evening so everyone had already eaten dinner). We had some time to chat both before and after the movie. Before the movie was "catch up" time and after the movie we all talked about what we thought about it and what other movies we have seen lately. The general consensus was that we need to do it a lot more often!
Do you ever host movie nights with your girlfriends or go see movies together? How is it different than watching with your family?