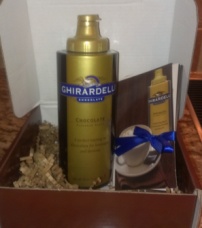 There are certain perks to having a website and being able to test out products is definitely one of them. But few perks are as sweet as the Ghirardelli Chocolate Flavored Sauce that my family got to try today.
If there were someone who could clinically declare chocoholics, I would be one of the people they would diagnose first. In particular I have a soft spot for Ghirardelli because when you are eating quality chocolate, you do not have to eat QUANTITY chocolate. And my thighs do not need quantities of chocolate. Just a few good pieces of Ghirardelli and I am a happy camper.
So I was super excited when given the opportunity to try out the Ghirardelli Chocolate Flavored Sauce. We eat a lot of ice cream in my house, so my first plan was to use it over ice cream. You can see in the picture below that my daughter Jillian loved it so much that she had to lick the spoon where it dripped!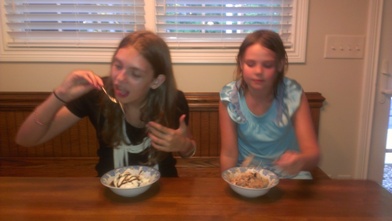 But the really great thing about this Ghirardelli Chcocolate Sauce is that it can be used in different ways. I am not a coffee drinker, but I have to think it would be most excellent added to your espresso. Think of all of the gift ideas! At less than $6 for a really nice sized bottle, you could wrap them up with cute phrases and give them as teacher gifts. Alternately, print off a couple of the recipes from their website onto pretty paper and attach them to the bottle with ribbons. How about putting one in a mug or big ice cream bowl with a spoon? Ghirardelli is a recognized brand that the recipient is going to love.
Although I am not a coffee girl, I am a martini girl!! And one of my absolute favorites is the Chocolate Martini. Check out the picture and recipe below that came with my Chocolate Sauce. You could definitely change it up a little bit depending upon your taste in liqueurs. But I think I will just try what they suggest. Why mess with a good thing?
I'll just warn you now not to try to make it without the Chocolate Sauce drizzled into the bottom of the cup. It will be okay, but it will not be as fabulous as it could be!
If you are as big a chocolate fan as I am or know someone who is, you need to check out the Ghirardelli website, which includes everything from boxed chocolates (my fav are the Dark and Sea Salt Caramel) to hot cocoa to the chocolate sauce. It's like a candy land for adults!