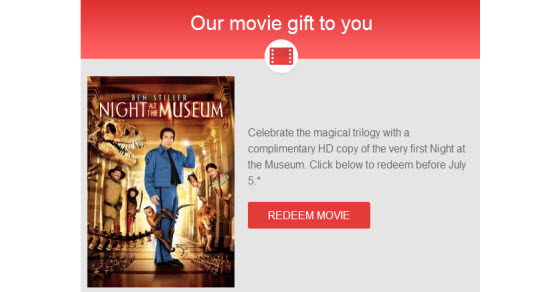 Earlier today my husband forwarded me a message telling me to click it to get a free HD copy of Night at the Museum from Google Play. I was so excited! But when I clicked on it, it said that my code had already been redeemed. I wondered why he would get one but I didn't when I also have a Google Play account.
So I went and searched my Spam folder for "Google Play" and guess what I found? My own unique code for my copy! When I clicked "Redeem Movie" it told me that it has now been added to my library. It  says that I can watch them in my web browser or on supported phones and tablets with the Google Play Movies & TV app.
I've never used Google Play to watch movies but it never hurts to have other options, especially when I can watch a movie that I love for free!
Moral of the story: If you use Google Play and didn't get the email for your copy, check your SPAM folder. Must redeem before July 5.