It's almost that time of year again—time for costumes, candy, and of course pumpkins! Halloween is just around the corner and that means it's time to start thinking about the cutest pumpkins ever. This is the year to make something creative and to really work with your kids on something that will be adorable and memorable. There are so many fun and easy pumpkin carving ideas and the end product will be something to celebrate.
[ad#ad-1]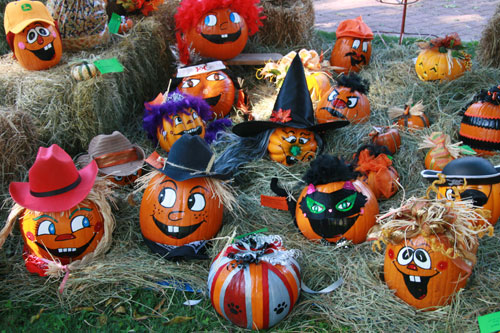 Though the typical Jack-O-Lantern smiling face works fine, perhaps it's time to start thinking outside of the box. This is a great year to try something new, something fun, and yet something simple enough that a child of the right age can help you to carry it off. These ideas are great for your outdoor Halloween decor, So if you want to be the most memorable pumpkin on the block, then try out these ideas for a little fun and yet an easy execution.
A Flower
If you have a little girl just chomping at the bit to make something cute and over the top this year, this can seem overwhelming as a parent. Don't' fret because a flower is something that can appeal to her tastes and yet make you happy as the parent because it's not at all hard to do. There are some simple stencils out there or you can just draw your own quite easily.
Start with the stem that is low on the front of the pumpkin to allow it plenty of room to "grow". Then draw out the petals that you and your child can easily trace and then carve over which will be the signature look of the flower itself. You can get really creative with this and even draw on some color with pumpkin paint or just let the shape speak for itself.
A Dog
This works for either boys or girls and can be easy if you start with an easy design. The face of the dog and the ears have to somehow be connected as you draw this out so just take it slow. The wrong cut can send the ears flying so just keep them big and floppy with a simple connection to the head through a little curve.
Leave space as you draw this out for the cute little eyes and the perfect puppy nose. It can be that simple, just big floppy ears and a face made up of the eyes and puppy nose or you can go more elaborate if you like. You can even complete the look by attaching something that looks like a tale onto the side or the back for that "awwww" effect!
A Ghost
Is it cliché? Perhaps but it's also classic and kids love it! So if you want to make a ghost this is perfect for Halloween and so very easy to do. There are tons of stencils out there for ghosts, some of which are actually quite easy to use. Even if you just draw it out yourself you can have fun with this and really find it easy.
Just draw out the silhouette of a ghost with the bottom being broader and flowing and the top coming into the perfect rounded head. This will look super cool with the light of the candle behind it and that makes it even better! Classic, easy, and so effective for the holiday!
[ad#ad-1]
A Decorated Happy Face
This goes well above and beyond just a happy face on a pumpkin because it's all about the accessories. Trace out a cute and memorable face and leave room for the accessories. If it's for a boy he may want to mix in scars or gore and if it's for a girl then she may want to mix in jewelry and makeup. Dress the pumpkin up with a tiara, feather boa, bandana or anything else that strikes your child's fancy. If you're going to have a pirate Halloween party, for example, decorate half a dozen small pumpkins all as different pirates, and assemble them on the deck of a "ship" – on a table, lay out cardboard painted brown and stencil in wooden patterns to make it look like the planks of a ship – then add the "pumpkin heads" to it!
The face can be as happy as you want it to but then get out the pumpkin paint and let them throw on blood or make up depending on their taste. They can then get out the accessories like fake mustache or jewelry and a hat. This is the pumpkin that's easy to carve but goes above and beyond the classic and traditional as it's all about the accessories, paint and creativity!
Chris Molnar is a work-at-home Dad of two preschool daughters. He writes about theme parties at Themeaparty.com