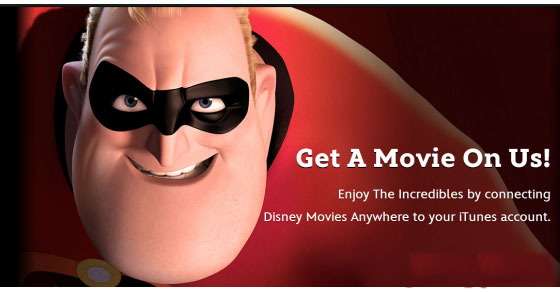 Last week I got the heads-up from Disney that they would be launching a really cool new service, and I have been chomping at the bit to tell you about it! It has been in the works for some time but is officially starting this week. The two most important things you need to know before you read any further are 1) it's free to sign up, and 2) you are going to get a free movie if you do it soon!
What is Disney Movies Anywhere?
Now for the details. The service is called Disney Movies Anywhere. Essentially you are going to be able to buy your Disney/Pixar/Marvel movies and be able to access them anywhere. Plus, it will be tied into Disney Movie Rewards so you can get great free stuff like Disney Gift Cards and other Disney goodies like toys and special Disney Experiences.
Hint: Before signing up for all of this, you should have an iTunes account. It makes the signup process easier. If you don't have an iTunes account, set that up first. And make sure you have iTunes installed on whatever computer you will be using.
The signup process did take me about half an hour. Part of that was just figuring out what to do and part was taking screen shots so that YOU can figure it out easily!
Signing Up for Disney Movies Anywhere
Head to the Disney Movies Anywhere site and click the Sign In button.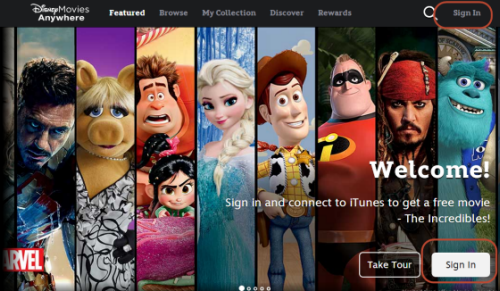 If you already have a Disney Movie Rewards account, you can use that to sign in. If not, you will need to create a new account.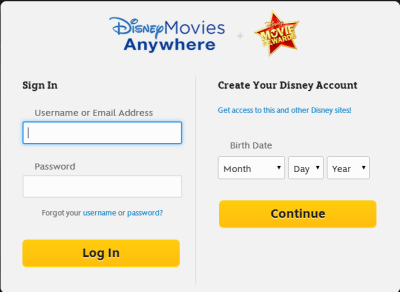 I already have a Disney Movie Rewards account, but this is what it would look like if you do not. It looks long but it really is not. They basically just need general information (email, name, address) and you need to approve their terms.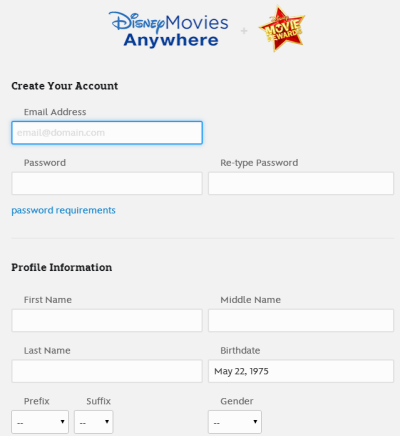 Connecting Your Account to iTunes
Although eventually Disney Movies Anywhere will connect to multiple different services, right now they are starting off with iTunes. To get your free copy of The Incredibles,  you have to take this next step to connect to an iTunes account.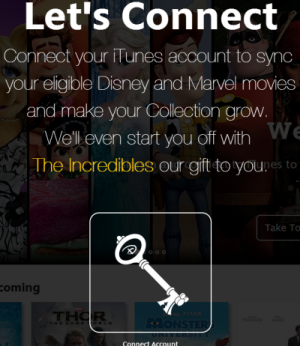 It will tell you that you are leaving Disney Movies Anywhere, and that is okay! You need to let it take you into iTunes. Once you do that, it will ask you to Connect Accounts.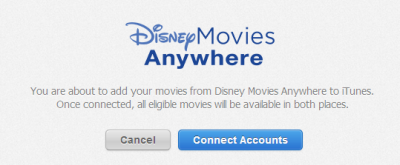 I do not use iTunes a lot, so I had to go and find my Apple ID and password. Then I had to reinstall it because I had an old version. Wish I had done that first!
Once you connect your account, you will see this: (I added the emphasis!) "You can now find your movies in Purchased in the iTunes Store or in the Videos app on your iOS device"

I also had a few glitches in getting it to open iTunes to connect. But that's okay. You can always go back to your account using the menu bar. It's the little circle-looking gear thing on the far right at the top:

When you go in there, you can make changes or reactivate the link to your iTunes account.
Watch the Incredibles for Free
Once you have connected everything properly and you go back to the Disney Movies Anywhere site, you will see this on the front: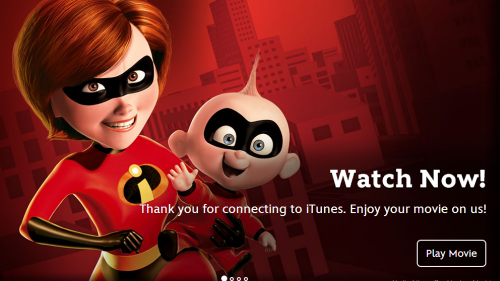 Click on that and it brings up the Disney Movies Anywhere logo and then the movie will start shortly.
What Else Is There?
Disney has packed the site full of lots of other really cool stuff. When you go into "Discover" you will find all kinds of fun free videos like:
Frozen: The Making of "The Making of" Frozen and Free PReview
Marvel's The Avengers: A Visual Journey
Mickey's Twice Upon A Christmas: Belles on Ice
Cinderella: The Real Fairy Godmother
The Lone Ranger: Blooper Reel
One of my favorites that is in there is the full 29 minutes of "Mickey and the Beanstalk." I remember watching that as a kid over and over!
Here's an example of the type of content you can find in there. Frozen in 25 Languages:
In addition, you will be able to set ratings controls at the device level so that you can block kids from watching PG-13 or higher movies on certain devices. This is perfect if you want to have a full library of movies but be able to easily control which of your kids can watch the different ratings levels. You can also choose to either download or stream the movies depending on where you are.
Plus, I just got news that Disney is releasing the HD version of Frozen today! You can get it after you click through and set up your account.
So that's it! I look forward to seeing what Disney does with this. We own just about every Disney movie and I would love to get everything connected!
Did you sign up for Disney Movies Anywhere yet? What do you think?