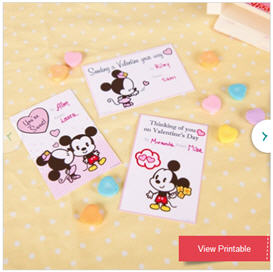 It's not very often that you see the words "Disney" and "free" in the same sentence.  I have to say that I love these free Disney Valentine's Day cards for many reasons.
Valentine's Day cards are not cheap and when everyone else in your class is bringing them in, you want to bring them in as well. If you can't afford to buy the ones that your kid wants, maybe these printables will do the trick.
Even if you can afford cards, sometimes it is nice to make them yourself because then you can customize them however you want.
Your child can get creative. Manipulate the printables a bit to make them completely unique in whatever way your child wants.
Basically all that you have to do is download the printable template and print the cards. They have a lot of different characters including Mickey and Minnie, Peter Pan, Phineas and Ferb (great for older kids), Nightmare Before Christmas (really unique), Lady and the Tramp, Cars 2, Toy Story, Disney Princess, Tangled, Disney Fairies, Sofia the First (hot this year), and Tinker Bell.
Check out Spoonful.com for all of the cards plus instructions.