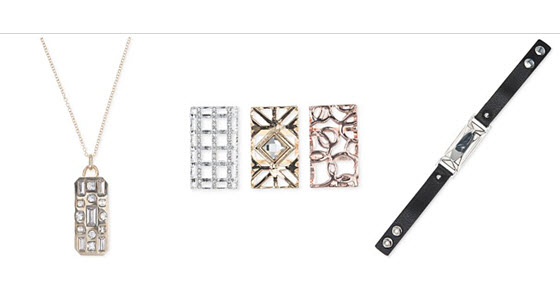 I've been wearing my FitBit daily for over a year now. I wear it everywhere I go, even when I am dressed out. I swap back and forth between black and pink, but I know that it sometimes looks ugly, especially with my other jewelry. I had considered the Tory Burch Fitbit bracelet, but it was $175 and not at all in my price range.
Yesterday I was looking around on the Macys website and came across a section of bracelets called "fitness tracker cover bracelets." Could this be what I have been looking for??
Sure enough, the Nine West Black Leather Fitness Tracker Cover Bracelet is made specifically for the Fitbit Flex. They have them in both gold and silver for only $40. They also have a gold and a silver necklace that are very stylish. Another product in the same section is the Nine West Set of 3 Tracker Covers that doesn't say what they are made for but talks about Apple in the product details.
To get the best deal on it, I bought it through the Macy's website using coupon code MYYEAR. This brought the price down to $34. I did in-store pickup to avoid any shipping charges (and because I want it for the weekend).
Here's what it looks like in the box and on my arm. It's not extremely fancy, but it is MUCH nicer than the silicone bracelet I normally wear. It also feels very secure because you have to open a hinge on the back to get the Fitbit out, and there are 2 pretty tight snaps holding the bracelet on.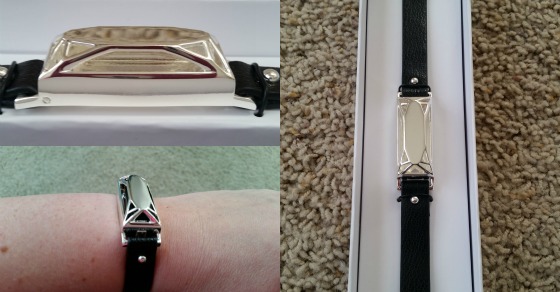 If you don't have a Fitbit Flex or just want to make your current band look nicer, there are still some options for you. I found a section on Amazon of "bling" that you can add to your Fitbit Charge, Jawbone, Garmin, and more. These start in price  at as little as $15.
If you have one of these devices, do yourself a favor and don't give yourself any reason NOT to wear it. Make it easy to wear so that you will want to wear it everyday. Keep your charger handy even when you are on vacation. Have a couple of backup bands to switch out if one breaks. Watching how much you move during the day is CRUCIAL in helping understand your overall health, especially if you have a sedentary job.
Do you own a Fitbit or other similar device? Have you been able to stay committed to it?