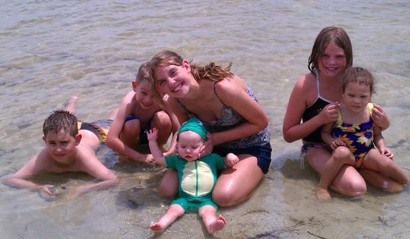 UPDATE 9/10/2012: First Data has issued their own story today based on their "investigation." Of course it paints them in the best light possible and pretty much calls both me and my brother-in-law liars. However, their story is inaccurate in many ways. Cindy Ballard is working on a point-by-point rebuttal. Not that they will care. They've done what they wanted to do, which is deflect attention away from our story and twist things just enough to make people doubt us. If they believe that someone was misrepresenting them in a scam, is it not important to them to get to the bottom of the scam so that it does not continue to happen? We see no reason to work with them further on this and will be turning everything we have over to the appropriate authorities to investigate it as a fraud case.
UPDATE 9/7/2012
It's become apparent that Kyle Santor (who we call that but I do not actually believe it is his real name), is at the bottom of this entire ordeal. I have been working with the actual legal department at First Data this week trying to track down how this all could have happened. They have no record of my brother-in-law having been hired by them and ALSO have no record of Kyle Santor being one of their employees. The numbers that my brother-in-law called to talk to the supposed First Data HR department and attorney are now all disconnected (and were not true First Data numbers). The names of the people he was given by Santor as First Data employees are not real First Data employees.
There are dots that we cannot connect. How did Santor get the job application that was submitted to First Data? Did he get it through First Data at all or did he pose as First Data on Monster.com to collect the application directly himself? How did Santor get access to First Data training materials and/or webinars? Could he have been a former employee? Is he working for First Data's competition?
First Data has not found anything in their records that can help us, and we have no paper trails left to follow.  At this point, our only recourse is to turn everything over to the authorities and hope that they will pursue this as a fraud investigation.
I wish that I had some kind of happy ending to report. There won't be any money because we can't prove that First Data intentionally did anything to set this chain of events in motion. We don't have any good leads on Santor because he managed to cover his tracks really well. In the meantime, someone now has my brother-in-law's social security number, bank account, and other personal information to do with as they please.
If anyone has any information that might remotely help us or has had something very similar happen to them recently, please get in contact with me. I know that it is a long shot but unless the authorities find something, a long shot is all that we have.
Original Story
It's not very often that I use this blog to go after a particular company, but in this situation my heart is just broken for my family and I cannot help but pass along a story. My heart breaks for my sister who couldn't buy my niece anything for her birthday and for my nephews who do not have backpacks for school this year. It's easy to think that these kinds of things only happen to other people–other people who are irresponsible or who made bad decisions. But in this case, it happened to someone just like the rest of us who works hard, got caught up in a bad economy, and is completely at the mercy of a big company.
I'll post the full story from my brother-in-law below, but here are the facts in short. For the sake of my sister's privacy, I'm leaving out a lot of details about the impact this has had on her family. But I am sure you can imagine:
A down on his luck man looks for a job for months to take care of his family and refuses any type of government aid or family help during that time. He gets a job that isn't great but will pay the bills and help him get his family back on track.
First Data comes in and offers the man a job that is perfectly suited to his experience and background. He leaves his new job to go to First Data and spends the next month training with First Data and calling on his personal business contacts to secure contracts for them.
After a month when it comes time to be paid, the man's boss starts making a lot of excuses about why the money isn't coming. The man is repeatedly assured that first the money will be in his bank account and then twice that checks are being sent by FedEx.
The man continues to do his job and has faith in First Data. After 10 days of not getting paid, he is sent a text message by his "boss" that First Data never actually approved his position and that the "boss" has been fired.
The man begins contacting First Data to get the back money he is owed and to see if he is still eligible for a job. After talking to corporate attorneys, he is assured that he will be paid for at least the first month. The man explains that he is in desperate need of this paycheck for fear of losing his home and not being able to feed his children. The company assures him he will be paid on a Tuesday. It's now the following Tuesday, and there is no money in sight.
The picture above is of my kids along with my nieces and nephews who have been impacted by all of this in such a way that I can't even describe to you. Do those kids deserve to go to bed hungry while First Data withholds a man's paycheck?? A man who worked for them in good faith and brought them new business?
Here's the story in full straight from the source. He hesitated for weeks about sending this to me because he did not want to badmouth First Data. However, this check from First Data is the difference between my nieces and nephews keeping a roof over their heads or not. We also want to make sure that this doesn't (or isn't) happening to anyone else. I wouldn't have believed it if I had not watched it all happening.
Having my entire working background in the same field, I am quite leery of putting my story out there. However, I have done everything else possible to no avail. Starting from the beginning of 2012, I lost my job, as many have experienced. Finding a comparable position in the industry was not looking positive, so I took an hourly job to make ends meet. I have a family with four kids to support, so there was no question as to the urgency. In mid July, I was contacted by First Data HR department. She reviewed the job and particulars as far as compensation and what not. She scheduled an interview between myself and Kyle Santor. He was, as I was told, the Regional Sales Manager. The interview was great and I progressed to the next interview with Ed Labry. Another successful interview. Following that, I received another call from Kyle scheduling a face to face interview in Tampa. After meeting him and interviewing again, I felt confident that this was going to be a great opportunity. I was offered the job the next week and hire date of July 24. I resigned from the job I had to dedicate myself to First Data. Also, I had to get internet and a computer to use, so I could start my research and contacting resources. I not only faxed over my personal banking information and ss information to HR to get enrolled in payroll but I also spent time working with the Tech department to get my firewall set up. Kyle came into Tampa the following week, where I met him at his hotel to do the online W-2 forms and orientation. The following day, I met him again for orientation and then proceeded to a bank that was an existing client of First Data. On August 14, the day before payday, I called HR to confirm they had the correct bank information and that was all set for payroll the next day. It was confirmed by Maria that all was in place. On Wednesday, August 15 there was no pay in my account. HR kept saying it was sent. By Friday the 17, Maria said she was going to overnight me a check. Nothing ever came. Monday August 20 when Kyle got to the office he said the check was still in Fedex bin and that he would have it sent into the account. Despite not receiving my pay, I still worked by making personal contacts and setting up Webinars to get First Data in. Tuesday, Kyle said he dropped off a Fedex and gave me a tracking number that "was not found". Wednesday, he had no idea why. Thursday, he was to Fedex again and call with a tracking number. No call, No check Friday. On Friday, I called Ed Labry and left a message since I couldn't get through to anyone. Monday morning I called Kyle and my response was the following email "Mike, I wanted to let you know I'm no longer with First Data. Im really sorry as your position was never approved. I tried my best. They will pay you. Best of luck. Kyle". You could imagine the fear. I just quit a job, worked a month, hadn't been paid and lost a job–all what felt was in the blink of an eye. I called Ed Labry again and left another message. Within 25 minutes I received a call from the corporate attorney, John. I went through the entire story with him and was told I would hear back in an hour. About an hour later, Cindy from the office called to let me know things were still under review and I hadn't been forgotten about. By the end of the day, I spoke with John and he needed another day to get all the facts. Late Tuesday I was told by John that I would receive my pay that was due from the 15th, the following day. During this whole time, I had expressed several times, to John, that I wanted to have a job with First Data and just be compensated for what time I had already put in. He had told me that he relayed that information and would have something to go on by Friday. Well, as of Friday August 31, there was no pay and no mention of a job. It turned into "he said, she said" but "bank said the money was sent", when my bank said it hadn't. Going 5 weeks without a paycheck has caused more stress and burden than I could even describe. Feeding my kids and providing for them does not happen with an IOU.