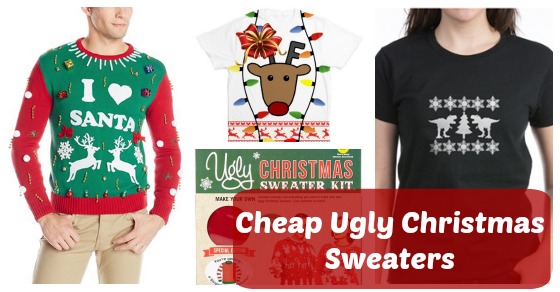 It's ugly Christmas sweater time! There are some AMAZING sweaters at places like Tipsy Elves (as seen on Shark Tank). They have them in just about every pattern you could want. And of course there are the Ugly NFL Sweaters that I wrote about recently.
I have to admit that the "ugly Christmas sweater" everyone wears in my house is a sweater that I actually used to wear for Christmas only a few years ago because I was a terribly unstylish mom who loves getting into the holiday spirit. Back then ugly sweaters were popular as actual sweaters and you could find them at any department store pretty cheap. But now that they have become a "trend," they can go for anywhere from $50-75.
But what if you don't want to spend $50 on a sweater and still want to participate in the "Ugly Holiday" festivities?
Make Your Own Ugly Sweater
If you are a crafty person, you can get crazy with jingle bells, fuzzy balls, glitter and more to decorate any shirt of your choosing. Pinterest is full of fun ideas.
However, even if you are NOT a crafty person, you can easily make your own sweater pretty cheaply. Simply use a sweater that you already have of any type or color and use one of these Ugly Sweater kits::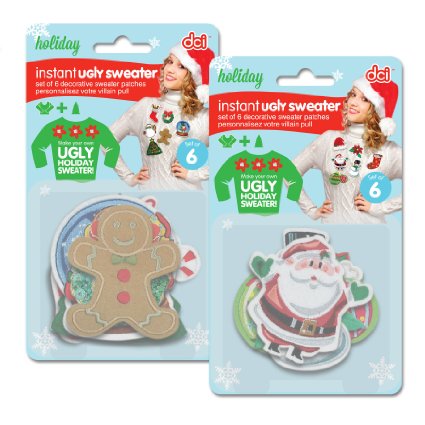 There are a number of different kits but you can genuinely get them for around $10. Pin them on t-shirts, sweatshirts, sweaters, or whatever you like to wear.
Some of the best prices that we found on these kits were:
Amazon (Priced $9-13)
Calendars.com ($11-12 but currently running a 20% off coupon on their site)
For about $25 we found these Ugly Christmas Sweater Kits that contain both a sweater and the decorations for you to make yourself. These can also be used at Ugly Sweater parties as a game.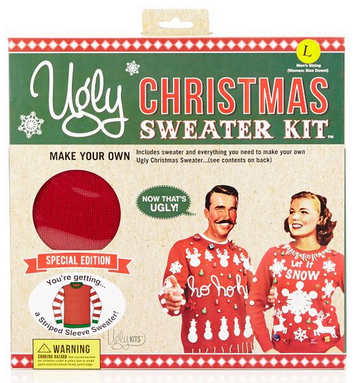 Go With An Ugly Christmas T-shirt
Even though they call them ugly "sweater" parties, you don't really need to wear a sweater. Save money by choosing a t-shirt patterned after an ugly sweater. Not only will it be cheaper but it might be more practical depending upon where you live.
CafePress has a really big collection of ugly holiday shirts (over 300) that can be customized on different shirt types, colors, and sizes. Prices start around $20 but they run specials on their site so often that you can get them for as low as $16.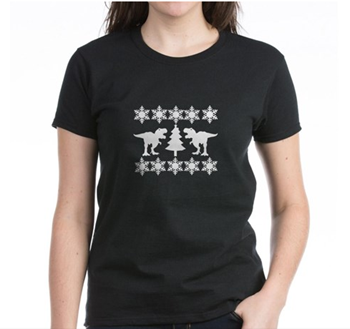 Reasonably Priced Sweaters
Although they still aren't "cheap," if you do want to invest in an actual sweater, we've found a few at reasonable prices.
Amazon has about 7 sweaters like this one that range between $18 and $25: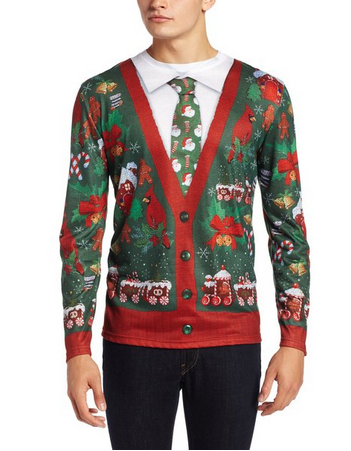 Target also has a small ugly sweater collection this year but I would consider them more "cute" than ugly. They sell for around $25 but you can get free shipping on them or maybe even pick one up locally if you need it in a pinch.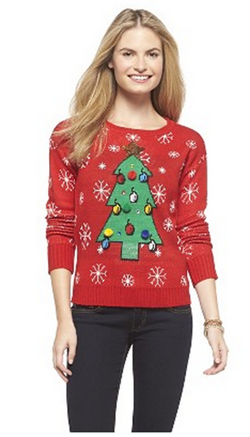 If all else fails, hit your local thrift shop. One man's trash is another man's Christmas treasure!