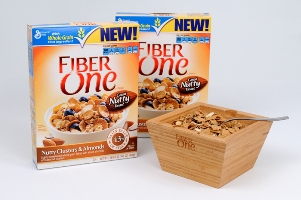 As a former "Weight Watcher" and current Hungry Girl fan, I am no stranger to Fiber One cereal. I've used it for everything from fish breading to homemade snack mix. So when I was given the opportunity to try out the new Fiber One Nutty Clusters & Almonds plus give away a prize pack to my readers, I jumped at it.
When my box arrived today, I had already had my afternoon snack (I'm trying pumpkin seeds to increase my magnesium intake). But I couldn't help but open the box just to try it out. I generally prefer my cereals without milk (I know, it's weird), so I opened the box and popped a handful in my mouth. The whole grain flakes are pretty typical for a bran cereal, but the big slices of almonds and the almond clusters gave it a nice crunch. It had a nice sweet taste to me, so I tasted the pieces one by one. The flakes themselves were a little sweeter than I expected (which I love!). The almonds were actually pretty large, and the clusters tasted like granola.
I checked out the nutritional information and was excited to see that a serving size is a full cup. That can be tricky with a lot of cereals because their serving sizes are not often a whole cup. Calories are 180 with a total fat of 3g. This is definitely in line with how I like to start my day. Even more, it would make a nice snack. But get this–11g of Dietary Fiber! I'm big on fiber, so this really stood out to me.
I literally had to take the box back into the kitchen after I wrote all of that because I kept sneaking my hand into the box for another handful! My plan is to try it out tomorrow morning with milk and fresh blueberries like it shows on the front of the box. That would add some extra antioxidants for me.
Would you like to win a prize pack consisting of 2 boxes of the Fiber One Nutty Clusters & Almonds Cereal and a "Nut Bowl" and spoon? If so, you can get entered below. The contest ends August 6. In the meantime, you can try it out for yourself with this Fiber One coupon.
"Disclosure:  The product, gift pack, information, and additional sample have all been provided by General Mills through MyBlogSpark."